A walk to end a cruel mystery
Robyn H. Jimenez | 4/1/2013, 9:46 a.m. | Updated on 4/1/2013, 9:46 a.m.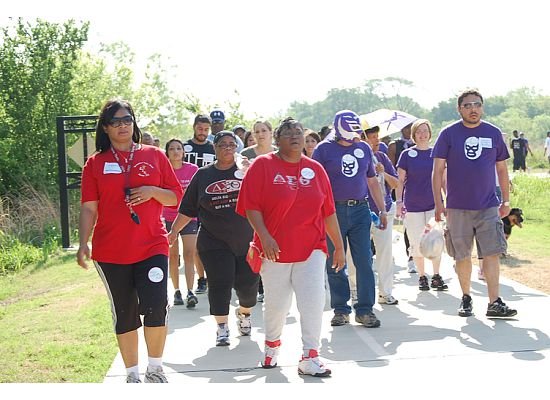 The Dallas Examiner
Lupus is a chronic, debilitating, destructive and sometimes fatal autoimmune disease. Because it can affect the heart, kidneys, and other organs or other parts of the body without warning, it is called the "Cruel Mystery." Many Americans have never heard of lupus, or don't know what the disease is and how it can affect those who have it. Yet, 1.5 million Americans suffer from lupus ‒ that's 1 in every 200 people. Moreover, African Americans are three times more likely to have lupus than Caucasians. It can also strike minorities at a younger age than Caucasians.
Lupus usually strikes between the ages of 15 and 45 – and 90 percent of those diagnosed are women, according to the Lupus Foundation of America. With lupus, the immune system does not function properly and instead of attacking foreign invaders in the body such as viruses, bacteria and germs, it creates auto-antibodies that attack and destroy foreign invaders as well as healthy cells. This causes swelling and pain in various parts of the body, and can lead to tissue damage.
The most common symptoms of lupus are prolonged and/or extreme fatigue, chronic pain, anemia, skin rashes and discoid lesions, swelling, neurological disorders (such as seizures, headaches, memory loss or depression), sensitivity to the sun and extreme heat, fever, mouth or nose ulcers, Raynaud's phenomenon (fingers turn white or blue in the cold), and disorders of the heart or kidneys. Less than 50 percent will suffer connected tissue disorders and hair loss, along with a variety of other symptoms. However, everyone experiences lupus symptoms differently.
According to the foundation, lupus is also called "the Great Imitator" because it can imitate other diseases such as rheumatoid arthritis, heart disease, lung disorders, muscle and bone diseases, blood disorders, fibromyalgia, diabetes, thyroid problems and Lyme disease.
Overall the mysterious disease is unpredictable, misunderstood, sometimes difficult to diagnose and often difficult to treat. An estimated 10 to 20 percent will die from lupus related illnesses. The most common causes of death are overwhelming infection, kidney failure and heart disease, according to the foundation.
At this time there is no cure. But through advances in medicine and other treatment, lupus patients are living longer and more productive lives. Additionally, researchers are looking for a cure, as well as better treatment plans and better medications to treat many of the debilitating and life-threatening symptoms, without the adverse side effects that many patients experience.
The foundation has recently launched a national call to action for all Americans to join the fight to end lupus. The initiative, Help Us Solve the Cruel Mystery, set out on a national tour in a 45-foot bus equipped with interactive displays to teach America about the disease. The tour also included free, informative workshops called Living with Lupus. The workshops gave detailed information about the disease, advances in research, and tips on living a healthier lifestyle to help minimize symptoms. At the same time, the foundation also held credited courses to update health professionals who take care of patients with lupus on advances in diagnosis, treatment and research. Information is still available at http://www.cruelmystery.org.
On Saturday, the Lupus Foundation of America North Texas Chapter will host its sixth annual Walk to End Lupus Now at 9:30 a.m. at Lone Star Park, located at 1000 Lone Star Parkway – Gate 5 in Grand Prairie. There is also a 1.5-mile short walk for those who can't complete the 5K. During the event, a group of lupus patients will release live butterflies to honor 55,000 individuals living with the disease.
More information can be found at http://www.lupuswalkdallas.kintera.org. Walks will also take place in Killeen on April 20 and in Weatherford on May 18.
The North Texas foundation hopes to raise $200,000 to support its local education initiatives, support services and other programs, as well as research.