SWAC SWAG
Southwestern college basketball championships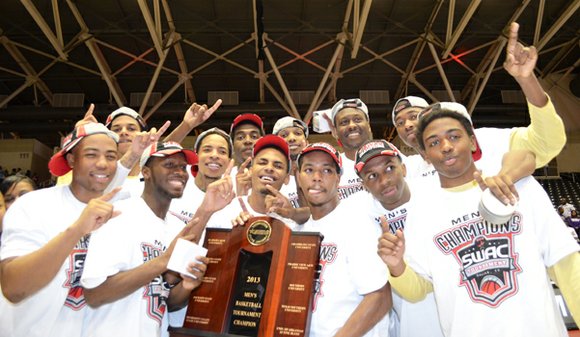 continued — Jaguars' fan Horace Batiste drove down from Louisiana to watch his son, Javan Mitchell, of Southern win the SWAC title.
"He had a good game," Batiste said. "I am so happy to be here and it was exciting for them to win the championship. I really enjoyed the tournament and especially the hospitality here in Garland. If you have a kid, make sure they play for SWAC because it's one of the biggest things going on here today."
Prairie View A&M head coach Byron Rimm II said losing the game was tough.
"It's disappointing for me because I don't get to coach our seniors on the team anymore," Rimm said. "It's a disappointing day but our team played great. This is a game and the ball bounces one way or another."
Women's Tournament
Even though it took four overtimes, the Prairie View A&M women's basketball team, 17-14, battled through to take home the SWAC Title with a 100-87 victory over the Mississippi Valley State Devilettes, 17-15.
This is the Lady Panthers' third straight SWAC Conference Championship.
"I am very excited, it could of not have been more exciting to finish in four overtimes," Panthers' head coach Toyelle Wilson said. "Everybody on that floor wanted it really bad. We just kept pushing. I credit our girls. They were relentless. When the third overtime game was over, I told the girls we couldn't go anymore. They looked at me and said we could go play in another five overtimes. They said coach, we can go all night."
Wilson said this win is on the top of her list.
"It was awesome," she said. "There was so much suspense."
Panthers' Kiara Etienne led the team with 31 points in the game.
Jeanette Jackson led the Panthers in the fourth overtime game with six points.
Mississippi Valley State refused to go away, especially in the third overtime when they were down by two points with less than 3 seconds in the game. Mississippi Valley State's Khristina Clemmons made a layup just before the clock ended to send the game into a fourth overtime.
Panthers' Latia Williams said she feels like a champ.
"I kept pushing and pushing and got myself back up every time I would be on the ground," she said. "This was my last season and I wasn't going out until I got the win."
Wilson said it is indescribable for her to mention how she feels about being a three-peat champion in the SWAC.
"I hate losing probably more than I love winning," Wilson said. "These girls did whatever it took to win despite the ups and downs. They overcame adversity to win and felt like they could not lose. For the seniors, to leave on top, they could say we never lost. It's just an awesome feeling. It's priceless."
Wilson said consistency, recruiting and knowledge of the game are the recipe for success.
"It's also the players," she said. "They are the one putting themselves in situations to win. The mentality of winning always keeps you on top."