SWAC SWAG
Southwestern college basketball championships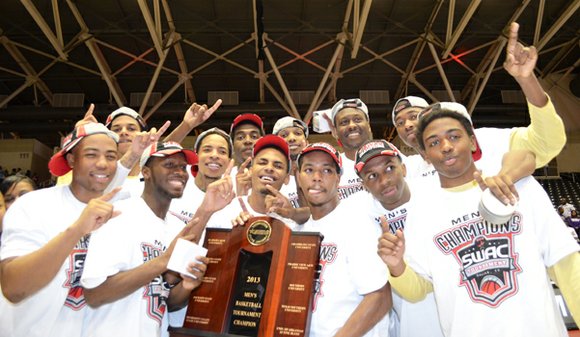 continued — For Mississippi Valley State head coach Elvis Robinson, losing the title game was emotional as he tried to hold back tears during the press conference.
"It was a good game and both teams played hard," Robinson said. "Somebody had to win and somebody had to lose. We are losing seven seniors on the team. I just hate to see them go out this way. I'm disappointed that I couldn't do for them what I needed to do for them as a coach. At the end of the day, it really hurts because these players don't cheat the game. They come work hard every day."
Pau Kadhi, a Prairie View A&M alumni, class of '96, drove in from Houston to watch the Panthers' men's and women's teams play in the title games.
"It feels fantastic to see all the spectators and to see all the support our school has," Kadhi said. "You can't script that any better for us to win in four overtimes to be three-time champions."
The official SWAC post tournament concert took place at the Verizon Theatre in Grand Prairie as thousands of fans witnessed performers Maze featuring Frankie Beverly sing their greatest songs. The concert also featured special guests Salt-N-Pepa and K-Ci & JoJo.
Afterwards, fans and alumni enjoyed the SWAC after-party at the Synn Nightclub in Dallas.
SWAC Commissioner Duer Sharp said the tournament has gone well.
"We were very surprised at the overall attendance and reception of our conference," Sharp said. "I think it has been very good. The Garland community has treated us very well. The SWAC is made up of 10 great institutions of higher education and we are committed to excellence."