Mayor appoints canvassing committee, city claims eminent domain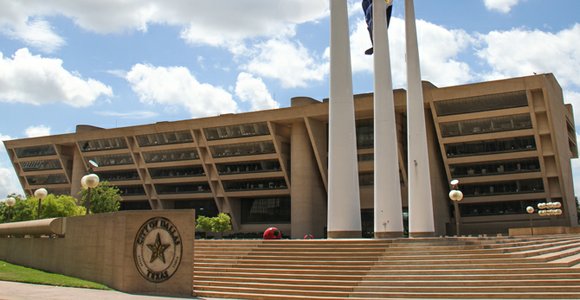 DALLAS — The Dallas Examiner
In a Dallas City Council meeting held on March 27, Mayor Mike Rawlins appointed Mayor Pro Tem Pauline Medrano, Councilmember Linda Koop, Councilmember Angela Hunt and Deputy Mayor Pro Tem Tennell Atkins, who will serve as an alternate, to an Ad Hoc City Council Canvassing Committee. The committee will review the results of the May 11 general and special elections, and submit a report to the council on May 22.
The Veterans Medical Center will no longer be an early voting location for the May 11 general and special elections. The Paul Laurence Dunbar Lancaster-Kiest Branch Library will serve as the replacement early voting location.
The council accepted grant funds from the Department of Homeland Security to provide funding for the training of personnel and acquisition of materials for disaster response. The funding is part of the 2010 State Homeland Security Grant Program.
Union Pacific Railroad Company has been contracted to install and maintain a pedestrian walkway and fencing within its property from Municipal Street to Scyene Road. Gibson and Associates Inc. will conduct the safety improvements from Municipal Street to Scyene Road.
The council also authorized a contract with CORE Construction Services of Texas Inc. for construction of the Bexar Street Redevelopment Investment Center as well as right-of-way improvements for Bexar Street and Hooper Street.
The council approved the exercise of the right of eminent domain for the acquisition of land from Diane S. Lacey, William L. Odell, Melissa Ann Orr, Nancy Lynne Orr, Patti Tessman Rea, Diann Tessman Slaton, Montell O. Tessman Jr and Jerry G. Tessman for land tracts for the Southwest 120/96-inch Water Transmission Pipeline Project. Land may also be acquired from LAZ LA III TX 1 LP for the West End Plaza Project. The city does not know if the acquisitions will be necessary.
The council approved the following appointments to boards and commissions:
• Cultural Affairs Commission – Roslyn Thibodeaux Goodall, Vice-Chair
• Judicial Nominating Commission – Andre L. Turner
• Martin Luther King Jr Community Center Board – Lois J. Lilly, Vice-Chair
• Reinvestment Zone 17 Board for Transit-Oriented Redevelopment – Neal Sleeper, Chair
• Reinvestment Zone 18 Board – Gene Hargrove
• South Dallas/Fair Park Trust Fund Board – Crystal N. Armstrong