Protestors Cry Out: Date Rape
Reebok lands in the middle of the controversy
Robyn H. Jimenez | 4/12/2013, 9:52 a.m. | Updated on 4/15/2013, 8:44 p.m.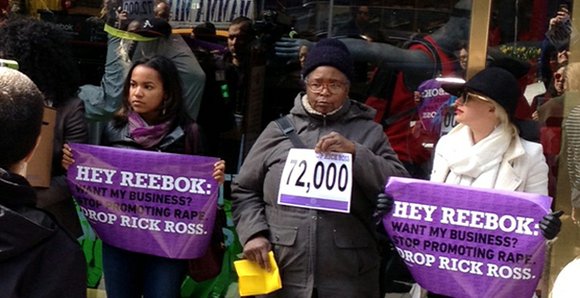 Rap lyrics of a well-known rapper are the center of a growing controversy. It's not the first time and it won't be the last. However, the concerns go beyond morality. According to protestors, the rapper is bragging about date rape.
The lyrics are part of Rick Ross' feature in U.O.E.N.O., a new single put out by another rapper named Rocko, featuring Ross and a third rapper named Future. Throughout most of the song, the men seem to be bragging about the value of the things they own and their "player" lifestyle – a growing trend among rappers. But, the song also includes two lines that, for many women's advocacy groups, crossed the line.
"Put molly all in her champagne, she ain't even know it.
I took her home and I enjoyed that, she ain't even know it."
A "molly," short for molecule, is a white powder or crystal that is considered to be a pure form of MDMA or 3.4-methylenedioxymethamphetamine. The chemical is a potentially highly addictive controlled substance found in ecstasy. Among numerous potentially fatal side effects, it can cause confusion and faintness, according to the Drug Enforcement Administration.
Molly is hip-hop's newest designer drug. Because it is broken down into its purest form and free of other drugs, many think that it is safe. However, after years of research, including data from emergency rooms and autopsies, researchers have found that the drug can be fatal. One risk factor is the inability to control dosage, even when placed in a capsule. Another factor is potentially undiagnosed underlying conditions that could cause the brain to hemorrhage and lead to death, according to the National Institutes of Health.
Ross has experienced quite a bit of controversy over the past seven years, having unapologetically transformed himself from William Leonard Roberts II with a football scholarship to Albany State University who went on to become a clean-cut corrections officer in the mid-90s, to a gangsta rapper who pulled his stage name from a notorious drug trafficker. But this most recent controversy, Ross states is simply a misunderstanding.
In a radio interview on Q93.3, wearing a blue Reebok cap, Ross talks about his life as a rapper. During the interview, he attempts to explain that the lyrics aren't what the public has made them out to be.
"I want to make this clear that women is the most precious gift known to man, you understand, and there was a misunderstanding with a lyric – a misinterpretation where the term 'rape' wasn't used," Ross insisted. "You know I would never use the term 'rape' in my records. And as far as my camp, hip-hop don't condone that. Streets don't condone that. Nobody condones that. Understand? So I just wanted to reach out to all of the queens that's on my timeline, all the sexy ladies, the beautiful ladies that had been reaching out to me with the misunderstanding, that we don't condone and I'm not with that."
However, he never explained why he would put a drug in a woman's drink without her knowledge of it. He didn't attempt to justify saying that he took her home and "enjoyed her" without her knowing what was going on at the time. Despite the fact that he once served as an officer, Ross seemed oblivious to the fact that having sex with someone without consent is the same as having sex with someone who says "No." Legally, having sex with someone who is unable to give or deny consent is rape.