Protestors Cry Out: Date Rape
Reebok lands in the middle of the controversy
Robyn H. Jimenez | 4/12/2013, 9:52 a.m. | Updated on 4/15/2013, 8:44 p.m.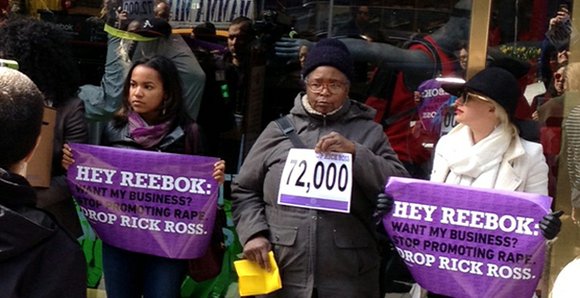 Groups that advocate on behalf of women are concerned about the disconnect that some men have toward rape and that hearing a rapper "brag" about it would subconsciously negatively influence young men to think little of taking advantage of a female. Others have stated that the nonchalant manner that rape is discussed would even subconsciously influence young ladies to believe that it's not that big of a deal, "After all, it was just a molly."
On the social media sites of both the radio station and UltraViolet, a women's rights organization, Ross supporters are few but vocal. One young man stated that it was just a joke and the rapper only said it because it fit in with his lyrics. A second young man states simply, "I don't see the issue really." A third young man says, "Calm down. People are dying all over the world … Find more valuable things in your life to get hyped and argue about."
It has not gone unnoticed that Ross is a spokesperson for Reebok. UltraViolet has demanded action from Reebok, insisting that the company remove Ross as its representative. Lack of response has led to an uproar among athletes, parents and social justice advocates.
Many Reebok wearers have threatened to throw away their apparel and footwear with the Reebok brand and start shopping for brands that do not advocate violence.
UltraViolet posted an online petition at http://www.bit.ly/ reebokrickross on March 29, calling on Reebok to drop Ross. In just over 12 hours, the site collected 51,000 signatures.
"In remaining silent, Reebok is using its brand to promote rape," wrote Nita Chaudhary, co-founder of UltraViolet, in a statement to the press. "Reebok and Rick Ross have crossed a line ‒ not only does Ross brag about drugging and raping a woman, he is pushing the idea that if you don't use the word 'rape' it doesn't count. We are fed up and disgusted with Reebok, and Thursday we will bring this fight to their front steps."
On April 4, the group, along with support from the National Organization for Women-NYC, delivered 71,763 signatures to Reebok's New York headquarters, demanding it drop Ross. Dozens of women in running gear wore marathon style bibs featuring the number 71,763. Many carried signs stating, "Hey Reebok – Want my business? Stop promoting rape. Drop Rick Ross."
"As a survivor of campus rape, I know how harmful it is when sexual violence is not recognized for what it is: a violation of another human being. Reebok needs to take the responsible route and stand against the denial of the experiences of millions of rape victims around the world," attendee Wagatwe Wanjuki said.
Protesters were not allowed to enter, but were met at the door by two Reebok representatives who said they would deliver the petitions to Reebok CEO Uli Becker, according to UltraViolet.
On Friday, the groups stated that they still had not heard from the company and would prepare to escalate their campaign. On Monday, more than 150 survivors of sexual assault launched an open letter to Reebok. The letter, once again, demanded that Reebok drop Rick Ross. UltraViolet members also launched a combined phone, twitter and online ad calling on the public to place 10,000 calls to the Reebok, with over 8,500 already made, as well as mobilizing on Twitter with tweets to @Reebok, with more than 2,000 already sent, and a Facebook ad and comment campaign targeting Reebok customers.