Protestors Cry Out: Date Rape
Reebok lands in the middle of the controversy
Robyn H. Jimenez | 4/12/2013, 9:52 a.m. | Updated on 4/15/2013, 8:44 p.m.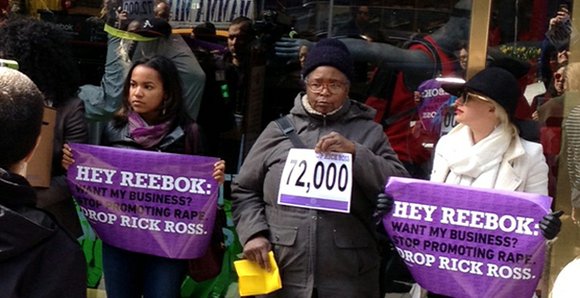 At press deadline, Rick Ross could not be reached and Reebok representatives would not return calls or emails to The Dallas Examiner. Yet advocacy groups have remained vocal.
"It's unacceptable that Reebok, one of the oldest brands in athletics, would stand behind someone who so openly condones rape. Companies like Reebok have a responsibility to the public. Propping up someone who rants about rape and paying that person millions of dollars is about as irresponsible as it gets. The Reebok board of directors should take immediate action," said Sonia Ossorio, president of NOW-NYC.
Update
On April 11, as The Dallas Examiner newspapers hit the stands that morning with news about Rick Ross' rap lyrics that sound as if he is bragging about date rape, Ski Johnson, Alvin Jones and CeCe Peniston released an open letter to Reebok urging the company to join the fight against rape and violence against women, starting with their reconsideration of Ross as their spokesperson.
By mid-morning, Rocko – whose single, U.O.E.N.O., features Ross rapping his notorious lyrics – released a remix without Ross on it. The space is noticeably filled with rapper Wiz Khalifa, who raps with a different style. And, instead of bragging about drugging and raping a female, Khalifa brags about fighting, his party life and driving while intoxicated. Reports from hip-hop media state that Rocko has already planned six remixes and will release them a week apart.
"We are honored to have Ski Johnson, Cece Peniston and Alvin Jones join us in our fight," said Nita Chaudhary, co-founder of UltraViolet. "Americans as a whole are fed up with the culture of rape and sexual violence that is oftentimes promoted in popular culture. We are encouraged to hear that Rocko is taking a stand by dropping Rick Ross' rape lyrics from U.O.E.N.O., and it's time for Reebok to follow suit. We are asking Reebok to once and for all … drop Rick Ross."
The celebrity trio support was more than a public statement. It was personal.
"I have an eight-year-old daughter and a wife [whom] I cherish. It is important to me that my daughter and all young ladies understand that love should not hurt," Johnson stated. "Abuse, physical or emotional, is neither conventional nor acceptable, and that is why I am supporting UltraViolet in their campaign."
In agreement, Jones stated, "As a husband, son, brother and nephew, I feel women should be protected and not neglected. That's why I am supporting UltraViolet in their campaign."
In supporting the anti-violence effort, the group hoped that the overall message would be one of positive change.
"Domestic violence is the silent enemy for many. Let us be intentional in empowering one another to greatness. I sincerely hope Reebok joins us in this effort," Peniston said.
Later that afternoon – one year after Reebok Classic signed Ross on as spokesperson – Reebok executives announced their decision to drop Ross as a spokesperson.
"Reebok holds our partners to a high standard, and we expect them to live up to the values of our brand. Unfortunately, Rick Ross has failed to do so," Reebok wrote in an official statement to the press. The representative also stated that they don't believe Ross condones rape, but was disappointed that he had not displayed sufficient understanding of the seriousness of the issue and was not perceived as sincerely apologetic.
Ross signed with Reebok Classic in March 2012.
The announcement spread across online news, entertainment websites and blogs.
Advocacy groups and individuals were satisfied that their voices were heard and their efforts were effective.
"We are thrilled to hear that Reebok is joining the fight against rape culture and dropping Rick Ross," Chaudhary stated. "This is a huge victory for women, for the 526 survivors of rape who were brave enough to publicly confront rape culture, and for the nearly 100,000 UltraViolet members who have poured their hearts and time into this campaign. This sends a strong message that rapping about drugging and raping an unconscious woman is not only morally wrong, but has real consequences. After Steubenville, Americans expect and demand better. Thank you Reebok for taking a stand."