Dallas Fire-Rescue Captain killed in explosion
Organizations and Businesses provide asistance, offer prayer
4/18/2013, 6:58 p.m. | Updated on 4/18/2013, 7:09 p.m.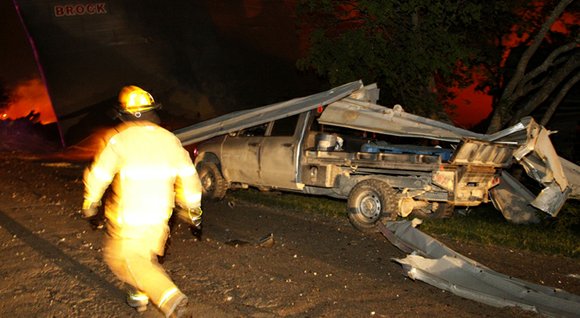 Special to The Dallas Examiner
Dallas Fire-Rescue Captain Kenny Harris, 52, was initially reported missing after yesterday's fire/explosion incident at a fertilizer plant in West, Texas. Harris lived in West, was off duty at the time of the incident and was not believed to be involved in any firefighting activity.
Dallas Fire Chief Louie Bright III responded to the news by saying "Our hearts are heavy and hurting with the loss of such a great firefighter, great husband and great family man. Dallas Fire-Rescue is wrapping its arms around the Harris family to provide comfort and support."
Although he was not a volunteer firefighter in West, when he became aware of the fire incident, he responded as a helper.
"Captain Harris rushed to the scene compelled to provide assistance to his community during this crisis," said Mayor Mike Rawlings. "I want to express my deepest condolences to his family, friends and co-workers."
As a first responder, Harris did not hesitate to go where he was needed.
"Captain Harris' response is typical of all our first responders; night and day, no matter where they are, no matter if they are on or off duty they respond with the greatest acts of bravery," City Manager Mary K. Suhm said. "The City of Dallas and the citizens of Dallas have lost a real role model."
The DFR Chaplain and other DFR members are currently in West to support the Harris family. He was married with three adult sons.
On the social networking site of the WFD, firefighters Buck Uptmor and Morris Bridges were also confirmed dead. Other first responders are still missing and the search for more missing continues.
Though officials will not release the number of deaths until the family members have been contacted, it has been reported that more than 100 people were injured during the explosion.
Carter Blood Care Center is encoring – those who can – to donate blood. There are several donation locations. To find the nearest locations, call 1-800-366-2834.
"Today our prayers go out to the people of West, Texas in the aftermath of last night's deadly explosion at a fertilizer plant. A tight-knit community has been shaken, and good. Hard-working people have lost their lives," President Barack Obama offered. "I want to thank the first responders who worked tirelessly through the night to contain the situation and treat the wounded. My administration, through FEMA and other agencies, is in close contact with our state and local partners on the ground to make sure there are no unmet needs as search and rescue and response operations continue. West is a town that many Texans hold near and dear to their hearts, and as residents continue to respond to this tragedy, they will have the support of the American people."
The explosion has triggered emotional responses, well wishes and prayers in regard to the survivors and those who have lost loved ones.
"Last night's explosion in West is truly saddening and a terrible tragedy," Congressman Marc Veasey stated. "As congressman of the Dallas-Fort Worth area, my heart goes out to our neighbors only a few miles south of the 33rd Congressional District. A ground team of police and fire departments, federal agencies, first responders and numerous agencies have been working hard around the clock to assist those in the area. Let us keep the victims and their families in our thoughts and prayers."