Dallas Fire-Rescue Captain killed in explosion
Organizations and Businesses provide asistance, offer prayer
4/18/2013, 6:58 p.m. | Updated on 4/18/2013, 7:09 p.m.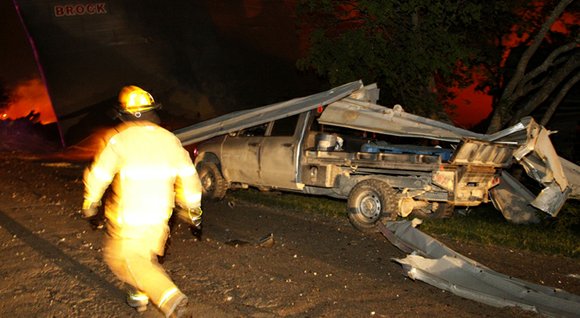 As a nurse, Congresswoman Eddie Bernice Johnson knows too well how an explosion of this magnitude can effect a town and its residents.
"My thoughts and prayers are with the people of West, and with the families of the victims of this explosion. We pray for the health and recovery of those injured, and for the first responders who arrived on the scene to administer aid to those wounded."
Johnson offered the following contact numbers for family members and friends concerned about anyone who may have been in proximity of the blast.
For information on admitted patients to Hillcrest Baptist Medical Center, call 254-202-1100.
For inquiries about patients, call Providence Health Center at 254-761-7200 or Scott & White at 888-394-4947.
For information on victims and survivors, call 254-826-4115.
She also offered information for anyone West resident needing shelter:
First Baptist Church of Lott - 254-829-2321
Aquilla ISD - 254-694-3770
Blair's Cove Apartments - 254-447-0810
Latham Springs Baptist Camp - 254-694-3689
Abbott gym
Valley Mills Nursing Home (for nursing home residents) - 254-932-6288
First Baptist Church of Gholson - 254-829-2321
Gholson ISD - 254-829-1528
Alliance Auto Auction - (North Interstate-35) 254-829-0123 or (Elm Mott) 254-829-1298
Penelope ISD - 254-533-2215
Central United Methodist Church off Bagby Ave. - 254-420-2862
American Legion Post 121 in Elm Mott - 254-754-8840
Sykora Family Ford - 254-420-2862
Town Hall Estates in Hillsboro – 254-582-8482
The Texas Food Bank Network will also offer emergency food and water to its distribution partners in Waco through the Capital Area Food Bank. All volunteer or donation inquiries should be directed to Gaye Lynn Bailey, TFBN Disaster Coordinator at 817-531-3663.
Other assistance is still on its way.
This morning a Texas A&M Forest Service Incident Management Team was deployed to West to aid in response and recovery efforts. It is considered one of the state's lead agencies when it comes to incident management and disaster response. The 18-member team — as well as the agency's mobile command post and satellite trailer — was requested by the Texas Division of Emergency Management to help emergency management officials track the local, state and federal resources responding to the scene.
Radio One, Inc. – Radio Stations KBFB-FM and KSOC-FM – began a Dallas wide "HELP WEST" emergency relief drive, rallying local partners and listeners to donate blankets, toiletries and non-perishable food items to assist those effected by the massive plant explosion.
"The outpouring from our Dallas community is what is needed at this time, for us to be able to fill up our trucks and drive down to assist. I believe we can answer the call to offer immediate relief to our neighbors." stated Program Director Mark McCray.
Quaker Steak and Lube in Plano, Carrollton and Waco will be accepting non-perishable donations today through Sunday. The Farmville Fire Department will be at the restaurant in Plano today helping load up all donations received. On Sunday, the Carrollton restaurant 'Help West - Benefit Bike Nite, Cruise In & Concert' beginning at 1pm. Both Plano and Carrollton locations will be donating 15 percent of all food sales.