Monday Night Politics focuses on Dist. 3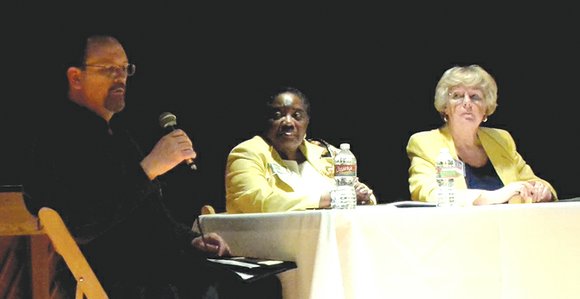 The Dallas Examiner
The second round of Monday Night Politics-Meet the Candidates was presented by The Dallas Examiner at the African American Museum at Fair Park in Dallas, on April 8. Candidates running for election in Dallas City Council Place 3 took the forum and answered questions from the audience. District 3 is a district that has been redrawn by the Dallas City Council as a result of the 2010 Census, combining the area of South Oak Cliff, Red Bird, West Oak Cliff and Mountain Creek.
Candidates Michael Connally and Claudia Meyer joined incumbent Vonciel Jones Hill to discuss how each one of them can improve District 3. Candidate Kermit G. Mitchell was not present at the forum.
"We have these forums to try to have informed voters," said Mollie Belt, The Dallas Examiner publisher. "We want our voters to know who the candidates are and what they stand for so they can make their own decisions."
Connally said he is a product of District 3 and that's why he would make the best candidate.
"I was born and raised in Oak Cliff and graduated from Carter High School in 1980. Currently, I am the Distribution Center systems manager at American Standard's Dallas distribution center. With the redistricting and being here in Dallas/Oak Cliff for so long, I thought this was a great opportunity and time to share and do my part to help the community."
Hill is the current councilwoman in District 3.
"When the redistricting process occurred, I lost the Pleasant Grove portion of my district and my district was redrawn to include the western part of the city," Hill said. "My district used to cover South Oak Cliff to the Mesquite city limits and now it goes from the Veteran Affairs hospital to the western city limits. I am excited to have new people and a new geography because there is much work to be done in continuing to develop the city economically and improve the quality of life."
Hill has been on the Council since 2007.
"I have a record of accomplishment and I am running on my record," she said.
Meyer said she has been a resident of Mountain Creek neighborhoods for 22 years.
"No one knows District 3 better than I do," Meyer said. "For 22 years, I have been working actively on behalf of the community."
Meyer is a former Assisted Living facility director and medical social worker.
"I am a neighborhood advocate and have served as a board member of both the Fox Hollow Homeowners Association and Mountain Creek Neighborhood Alliance," Meyer said. "I am also co-founder of Dallas Residents at Risk. I have worked diligently over the past three years to get the city to comply with the existing ordinances which restrict service gas drilling in the area. I am ready to be the voice of District 3 on the Dallas City Council."
When asked what each individual's strongest leadership skills were, all candidates had similar answers.
Meyer said she believes her strongest skills are listening to people.