Monday Night Politics focuses on Dist. 3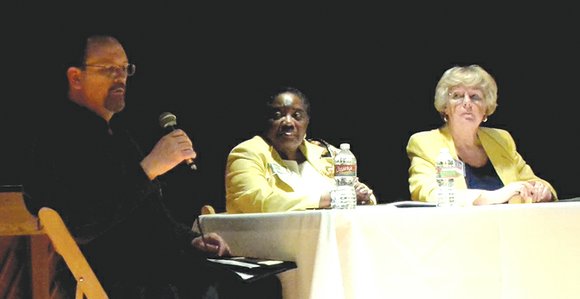 "I want to hear what you have to say," she said. "I have worked with neighborhoods so that they can have a voice at Dallas City Hall. We need to tell our government what we want. Too often, Dallas City Hall is focused on big flashy projects at the expense of everyday issues that impact residents more. We need a bottoms-up approach to Dallas' problems, not a top-down one."
Hill said her strongest leadership skills are the ability to make a decision.
"Making a decision includes listening to everyone and understanding and analyzing the facts so that a considerable and thoughtful decision can be made and being able to justify one's decision," she said.
Connally said his greatest leadership skills are also listening to the residents.
"I am a great listener and people always like to tell me what's on their mind," he said. "I am fair and honest in my evaluations with people. I was always good at being cool under pressure so I can handle the stress when the stress is on."
Each candidate had their own take on what challenges they see with the new configuration of District 3.
"The challenges I see is the economic development in the newly acquired are," Hill said. "The Council which I am a part of has brought new development to the park known as Industrial Park. It is a lot of land. There is an opportunity for development and economic growth, however that must be balanced with maintaining the peace of the area and ensuring neighborhood quality remains, which leads to the secondary challenge of ensuring that the residents are on board with whatever new development are brought to the area. Also, we need to avoid congestion in the area and make sure crime is down and our neighborhoods continue to be beautified."
Meyer said the challenges in District 3 are very large and very diverse.
"For the diversity to be inclusive, we need to have people from neighborhoods identify what they want," Meyer said. "Neighborhood Associations need to be consulted and identify what they want and find developers and make things happen, including people's input. With people's input, you get a better idea of what challenges will work and what will not."
Connally said the district is also very diverse and has many things it needs to work on.
"In the western part of the district, there is a lot of open land and new development," he said. "We need to work on making progress and provide more transportation in the area."
Connally said his goal for the area if elected is to work for economic development, both job opportunities and retail services that are in keeping with the character of the neighborhoods.
"I would like to place a greater emphasis on developing the recreational aspects of the Southern Sector with parks and recreation center improvements," he said. "I would also like to ensure that code enforcement, streets, city services are properly maintained and fairly distributed. Also, I would like to promote the expansion of DART services, bike lanes and alternative transportation in the Southern Sector."