Monday Night Politics focuses on Dist. 3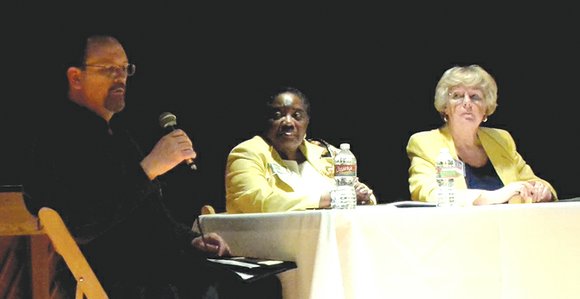 Meyer said she has many goals for District 3 as well.
"Protecting and enhancing our neighborhoods is important," Meyer said. "We live in a unique part of Dallas. It needs protection from new threats like irresponsible gas drilling and fly-by-night developers, and it's overdue for the same level of services, retail and employment opportunities that Dallas residents enjoy north of the Trinity River. Also, economic revitalization of the Camp Wisdom and Southwest Center Mall area is also needed. A 2009 report urging converting the current mall to an open-air 'village-type' shopping center and providing better access has languished at City Hall. It's time to start organizing a community response that can revitalize this important retail crossroads of Southern Dallas and keep Dallas dollars in town. And finally, directing city attention to getting things done in District 3 is critical. This is a large and diverse district that needs a strong and effective City Hall champion. One who isn't afraid to ask tough questions and be persistent."
Hill said she realizes that everyone who serves on the City Council cannot take it for granted.
"Every person who serves on the Council must earn his or her seat," Hill said. "The seat was drawn as an opportunity district for African Americans, but I have to earn the seat."
Hill said her goals are to continue to serve the people in District 3.
"I played a critical role in bringing a full-service shopping center to Pleasant Grove and supported adding a Walmart at Loop 12 and I-35," she said. "I also supported the Pinnacle Park development at the northern border of District 3, which is adding jobs, retail, restaurant and residential options. I have worked hard to represent District 3 with dignity, integrity and as a faithful voice for the needs of our constituents from The Woods to Southwest Oak Cliff. District 3 for me is not a series of neighborhoods drawn together to meet a redistricting requirement. Rather it is my neighborhood where I have lived and worked for many years as a public servant, community leader, attorney, educator and pastor. It's a district that includes 'The Woods,' 'The Cliff' and 'The Creek;' I know where we've been and I believe in our future. I have worked hard and long with you to ensure that our future is better than ever. I have the experience and perspective to lead District 3 forward. I have been a facilitator of practical and visionary goals that have improved District 5′s citizens and added fresh energy to the rhythm of our community's daily life. I look forward to bringing that same commitment to District 3."