The road to parity: Urban League reports Blacks are slipping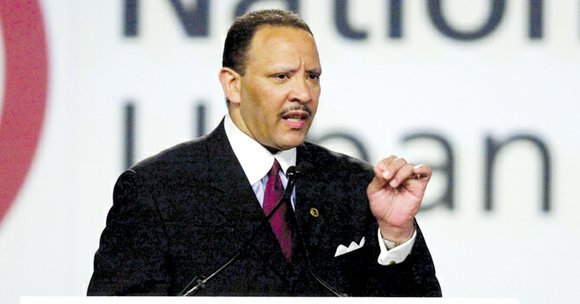 Fudge continued: "One new name is 'debt and deficit reduction' at the expense of seniors' health and well-being, and our children's education. Another is the fight against full implementation of the Affordable Healthcare Act that guarantees access to health care for all Americans."
Michael K. Fauntroy, an associate professor of public policy at George Mason University in Virginia and former analyst at the Congressional Research Service, wrote that even though the Black voter turnout rate exceeded Whites in 2012, there is still plenty of room for improvement.
"According to U.S. Census Bureau data, there are roughly 26.6 million voting-age eligible African Americans as of 2008; of that number 16.68 million (or 62.7 percent) cast ballots in 2012," Fauntroy wrote.
Fauntroy says Black political clout can be expanded.
"With the White share of the electorate in continued decline, the Latino vote not yet solidified, and the Asian American vote still in growth-mode, African Americans are presented with an opportunity to apply political power, not just influence, in the years ahead by picking who wins elections," Fauntroy wrote.
According to Frederick S. Humphries Jr., vice president of U.S. Government Affairs for the Microsoft Corporation, in Washington, D.C., Blacks can also see gains in economic power by addressing the skills gap in the technology industry.
"Consider this: In the United States last year there were 1,603 new Ph.D.s in computer science ‒ far too few," Humphries wrote. "Compounding this dearth is the fact that only 349 of those degrees went to women, 47 went to African Americans. Nearly 60 percent of these degree holders were foreign nationals."
Humphries recommended a two-pronged approach to closing the skills gap that includes strengthening science, technology, engineering and math programs across the country as well as supporting immigration reform policies that will spur job growth in the United States.
Attorney General Eric Holder said that the Justice Department found that some of the nation's largest mortgage lenders engaged in wholesale discrimination against Blacks and Hispanic borrowers during the housing crisis that contributed to the Great Recession.
"We discovered lenders that charged African American and Hispanic borrowers as much as tens of thousands of dollars more for their mortgages than they charged similarly qualified White borrowers," Holder wrote. "Others steered these borrowers into expensive and risky subprime loans. The department has vigorously rooted out these fair lending violations, securing record relief ‒ more than $660 million over the past four years ‒ for victims and their communities, and sending a clear message to all lenders that all borrowers must be treated fairly."
Wilson said that the 2013 State of Black America report comes at a time to reflect on the progress that has been made while acknowledging there is still a lot of work to be done, particularly in the area of economic equality.
She said, "For me and for a lot of us involved in this movement and in the civil rights community, we understand the role that race continues to play, we don't live in post-racial society."