Building History
An historic celebration in Oak Cliff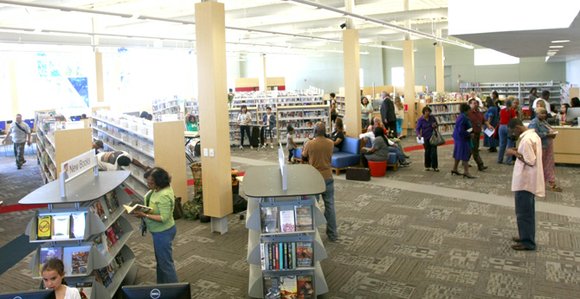 The Dallas Examiner
On Saturday, community leaders and local residents were present for an historic event. The Polk-Wisdom Branch Library held its re-opening celebration. The library's new facade – red, clear and different shades of blue glass panes interspersed in a rectangular prism through the left side of the structure, along with an interior and exterior made of local building materials. According to Library Branch Manager Latari Thompson, these building materials comprise 80 percent of recycled construction waste from the local landfill.
Welcoming all attendees to the re-opening celebration was Director of Dallas Public Libraries Jo Giudice. After her warm welcome, the Junior ROTC of David W. Carter High School presented the colors and led the pledge of allegiance. Generations ago, the group also participated in the branch library's grand opening on Nov. 23, 1970. After the pledge of allegiance, Pastor Dennis Hall of Concord Church prayed a blessing upon the new branch library.
After the invocation, Dallas City Councilmember Tennell Atkins, District 8, greeted all attendees, expressed his enthusiasm about their attendance and talked about how important the library was to the community in terms of access.
Following his speech, Assistant City Manager Joey Zapata conveyed historical events pertinent to the branch library, also mentioning that its re-opening and extensive renovations were indeed necessary.
Before the construction of the original branch library, a bookmobile served as a "library" in the Polk Terrace and Polk south areas. At around this time, there was a large outcry in the community for a stationary public library, hence the creation of the branch.
James Edgar "Ed" Palmer, chair of the Dallas municipal library board, provided the concluding remarks before the ribbon cutting by program participants.
Next on the agenda was Thriving Minds Youth Jazz Orchestra, who performed several soothing, traditional selections. Several young people played the drums, xylophones and a bass guitar, with the adult instructor on a keyboard, directing the whole ensemble.
When the clock struck noon, the library showed attendees that "Stories Come Alive with Melody 'AFI' Bell." The griot/storyteller used music, songs, games and costumes to help her stories come to life.
After story time, percussionist Len Barnett performed upbeat sounds from various genres, including jazz, Afro-Latin and Afro-Caribbean.
And last on the agenda, the library allowed crafts time, an activity many families enjoyed.
When asked what the library meant to the community, Giudice gave an optimistic response.
"The new Polk-Wisdom Branch will have many new features and the library's additional space will allow the staff to provide more services and programs to serve the community," Giudice said. "We can help the community grow and learn in this beautiful facility … It's just a more inviting space."
When asked the same question, Thompson agreed with Giudice, offering a look into what the library will offer in the near future.
"We have a brand new facility with … all new resources to help with education, entertainment – meeting rooms – which can be used for meetings, study groups and book clubs," Thompson said. "We [have the resources to] help with job search and resume writing. A storyteller will also come in June."