CASE studies the education of Black students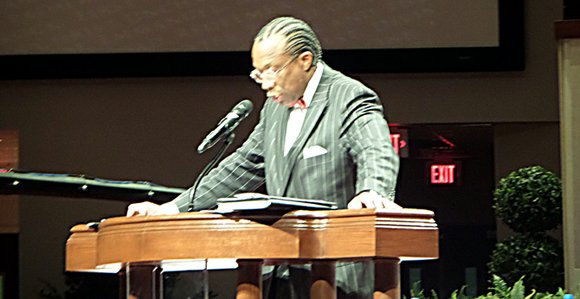 The Dallas Examiner
For the Dallas Independent School District, it may seem like it is facing the same questions and challenges year in and year out. At the top of the list for the Coalition for an Accountable System of Education: Why are African American students behind in education, test scores and are low-performing?
That is the question CASE wanted to help find a solution to. On April 5 and April 6, the group held its Summit on the Education of African American students in DISD at a forum held at Friendship West Baptist Church.
Hundreds of parents, teachers, administrators, students and community leaders gathered to hear DISD Superintendent Mike Miles reveal his plans to close the achievement gaps between the district's minority students, specifically African American students.
Dallas County Commissioner John Wiley Price told the audience that he had heard the struggles of these students.
"The problems with education in DISD are not new," Price said. "DISD is never flourishing but just surviving. In 2003, it was the same story and 10 years later, here we are still destitute in DISD. This is a national problem as well. Sixty-eight percent of urban high schools now have police officers patrolling cars in the schools. Two-thirds of teens incarcerated in juvenile detention center either withdraw or drop out of school. And 1 out of every 3 teens who are arrested, are arrested in the schools."
Price pointed out that there have been children as young as 6 years old that have been in handcuffs in this country.
"Many of our children are in disarray," he said. "Some of our Black principals will be replaced. I have been here before. Superintendent Mike Miles is not the man for this job. He is not ready for a major urban district. We cannot have a superintendent who plays one against the other for the sake of his own."
Recent reports have shown that over 33 of the DISD schools are considered low-performing and are struggling. Most of these schools are in predominantly African American and Latino communities.
Carla Ranger, a member of the DISD Board of Education in District 6, said this summit needed to be held in order to address the many issues facing African American student performance.
"We need to shine the light on the continuing low performance of African American children in DISD and see possible avenues for improvement," Ranger said. "We are here as parents, educators and stakeholders because what we know is that there must be focused attention, desire, resources and persistent action in order to improve the educational success of African American students."
Dr. Lew Blackburn, president of the DISD Board of Education, told the audience that when he hired Miles, he asked the new superintendent to transform the district and make a positive change for DISD in one year.
Blackburn said he is still looking for answers from Miles.
"I still have expectations of our superintendent to help our African American students rise up," Blackburn said. "We cannot leave not one Black boy or Black girl left behind. We need to take care of the least one of ours. I challenge Mike Miles to take care of our Black boys and Black girls, our Black teachers and principals who take care of our children. I challenge him to not let our African American students go no further down than they already are. My challenge to you is to make them perform better year after year. Because if we don't see any results from the tests our students will be taking this month, I am still looking for Mike Miles and his staff to make a difference this year, next year and the year after."