CASE studies the education of Black students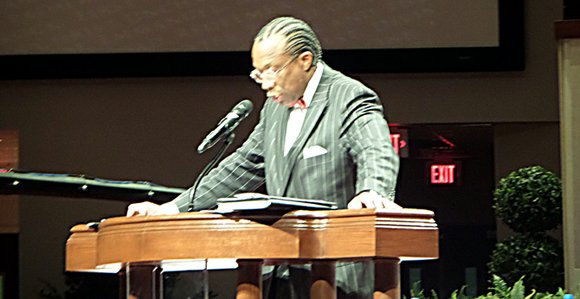 Miles first thanked the audience and community for getting involved.
"There are so many people here who have fought the civil rights fight for decades and it is because of them that we have a chance to have this kind of discussion about achievement gaps in DISD," Miles said. "There are also many people here who have fought hard to get a school, to get principals, and have fought for equality of resources."
Miles said he believes in the students of DISD, despite the criticism he has received for his job performance.
"I know that our students can be college ready," he said. "We already have given 40 scholarships to African American students at the Black Chamber of Commerce meeting held earlier. The expectations need to change because it has been the same story for the past thirty years in our district. Now is the time for transformation. We cannot depend on just incremental changes, but one of transformation."
Miles said he has many plans to close the minority achievement gaps.
"We have been talking for far too long and need to start taking action," Miles said. "First, we have to believe. We have to have a system to believe that our kids can learn. When I walk into a classroom and see a teacher dumbing down the curriculum, they don't believe that our kids can learn and instead make excuses for poor-quality instruction. Our African American boys and girls can learn and they are smart, so don't dumb down the curriculum on them. We need greater rigor and increase our expectations for our students. Secondly, we need to have an effective teacher in front of every kid. Teach them grade level curriculum with rigor. And we also need to have an effective principal in the schools."
Miles said his goals are to recruit and retain the best teachers, develop principals, and have a collective impact by having community involvement in education.
"We have to tend to environment, parents, teachers and our children at home," Miles said.
Miles said as superintendent of Dallas schools, he has a vision. That vision is called Destination 2020, which is a district improvement plan presented to the Dallas ISD Board of Trustees. The plan includes having DISD students college-ready.
According to Miles and his staff, their job is to prepare students for college or for a year 2020 workplace. They said a college- and career-ready student is what parents want, as well as the community wants.
The goals for DISD include having the highest college- and career-ready percentage of graduates of any large urban district in the nation by the year 2020. Miles said he realizes several steps are needed to improve the achievements of African American students now so there will be a better future for the next generation.
"I've been at this awhile," Miles said. "All of us have to reach deep and find the hero inside of us. It's about the courage of each man. This is the right time for transformation."