Fair housing: A glance at the past, a glimpse into the future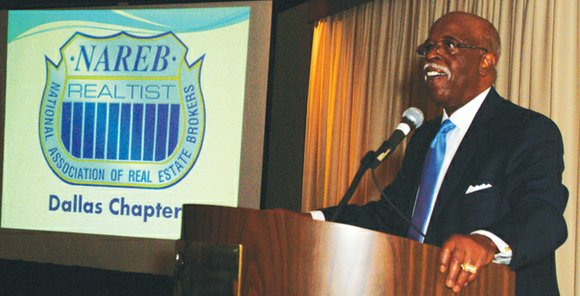 The Dallas Examiner
Women and men donned fine dresses and nice suits as they entered the Renaissance Dallas Hotel on Friday for the Dallas Association of Realtists' 57th Annual Scholarship and Awards Banquet.
Kicking off the program was Mistress of Ceremony Eula Vaughn and Master of Ceremony Robert Ashley of KHVN radio. During his remarks, Ashley incorporated comedy, optimism, history and "shout-outs."
"Is it a surprise that the [housing] market started to turn around when we got a new president," Ashley said, referring to the effectiveness of President Barack Obama. "We ought to be thankful for the Fair Housing Act, [the works of] Martin Luther King Jr., Rev. Jackson … There was a time that we [Blacks] couldn't buy homes even if you had the money to do so."
Rashad Thomas of Five Star Realtors was then called up to the stage, where he welcomed attendees with several facts about Dallas. He then invited to the stage Darryl Mallory, Texas Association of Real Estate Brokers president, for the greeting.
Next up, 6-year-old entrepreneur, actor, model and speaker Prophet Isaiah Jackson took hold of the microphone to give the invocation, an act he is well-known for doing at places like The Potter's House, Dallas City Hall and other major venues.
Following the prayer was dinner, which comprised of a pesto over chicken breast, Spanish rice and string green beans. Jazz musician Jeff Aycock provided musical entertainment during dinner and for the night, playing smooth sounds on the saxophone and oboe.
DAR invited Alphonso Jackson, former secretary of United States Housing and Urban Development, as the keynote speaker. Due to health problems, Jackson was unable to make it.
Filling in for Jackson was C. Donald Babers, a housing professional of 43 years and formerly HUD's acting Southwest regional director. His speech was historical, informative with a bit of comedy and also a call for action.
"In 1987, it was clear that the movers and shakers were in this group. So I was glad to join," Babers said. "A. Maceo Smith later became a [housing professional] … I had the pleasure of serving under him. He was a founding member of this organization as well."
He stated that everyone should be proud to be a part of the DAR, and then went on to talk about laws that restricted growth in the housing industry.
"The FHA was redlining the Southern Sector and some parts of West Dallas. You could not approve loans on houses in the Southern Sector if they had a wooden foundation [because] termites could eat away at the wood," Babers stated with suspense. "But, [the particular type of bark] that was used on many houses, termites don't eat. There were irregularities as far as the lending industry is concerned. People must have resiliency and survival skills."
At this point, Babers went into a narrative analogy about how two men that were camping were confronted by a bear at their tent. One friend, Steve, began putting on his shoes. The other friend sat puzzled by this, prompting him to ask Steve why he was putting on his shoes. Steve answered, "I just have to outrun you."
The audience responded with laughter.
Babers passionately emphasized that people must have the ability to adapt to survive and that they must be flexible and quick thinkers. He added, optimism is critical to survival.
"Studies show that optimists live nine years longer than pessimists," he affirmed. "The best resilient person is he who has a clear vision and who remains positive."
Rounding out the evening were an awards presentation, sponsor recognition, closing remarks and the benediction by Ashley.
Fair Housing Month and National Realtist Week was April 7 through April 13.