Politics in Pleasant Grove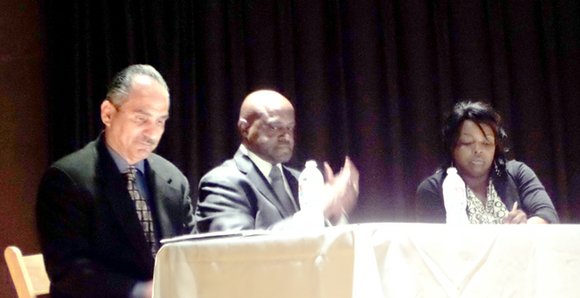 The Dallas Examiner
The third round of Monday Night Politics-Meet the Candidates was held April 15 at the African American Museum. The focus of the forum was Dallas City Council District 5.
There are four candidates running for the district, which was redrawn to include mostly Pleasant Grove. The candidates are Jesse Diaz, a realtor; Bruce E. Shaw, who works in transportation; Yolanda Williams, who works as a paralegal; and Rick Callahan, a real estate broker. Callahan was not present at the forum.
The evening opened with Mollie Belt, publisher of The Dallas Examiner, reminding the audience of the importance of having informed voters.
"This forum is not a debate and we do not have candidates ask each other questions," Belt said. "We have these forums to have informed voters."
Shaw said he believes he is the best candidate because he is a product of Pleasant Grove.
"I have lived in Pleasant Grove for 23 years and have gotten fed up with some things," Shaw said. "I am not a politician obviously, but I am someone who has Pleasant Grove in my heart. I raised six children here, shopped here, and everything I do is in Pleasant Grove."
Diaz has been an active community member.
"I've been in the trenches of Pleasant Grove for over 30 years," Diaz said. "If something happens in the area, the media comes to me first because I am either involved in the schools or involved in anything that happens in Pleasant Grove."
Williams is a native of Pleasant Grove and feels she represents her district the best.
"I consider myself the realistic candidate because when you say you are going to represent the community, you have to really get out there and work," Williams said. "No offense to Mr. Diaz, but I think it's great to be on the boards but I choose not to be on all the boards because there is no way you can really work for the community. You need to be a part of the solution and not the problem."
When asked what the greatest need for the district is, all candidates had different ideas.
"The greatest need is housing and we need to have affordable housing," Diaz said.
Shaw wanted to see more economic development in the area.
"Commercial development is important without congesting the city with traffic," Shaw said. "We need to get a little bit more economic development in the area because it makes no sense for us to go to other communities to enjoy a movie or even a decent restaurant. We need to ramp up safety so kids can go to the park, can have picnics, and do things we used to do without fear. We also need to ramp up the code enforcement so dogs will not be running around everywhere."
Williams said before we can add new businesses to the area, Pleasant Grove needs to be improved.
"Pleasant Grove is in horrible shape," Williams said. "We can't talk about economic development when our neighborhoods look bad. I would like to see more than payday loans and used car lots on Buckner. Also, we have enough low income areas, but we really need to help the middle class in our area. We haven't done enough for the middle class – the workers. We also need to help our senior citizens, many of whom are homeowners."