Wild about blueberries
Go wild with the healthy superstars of frozen fruit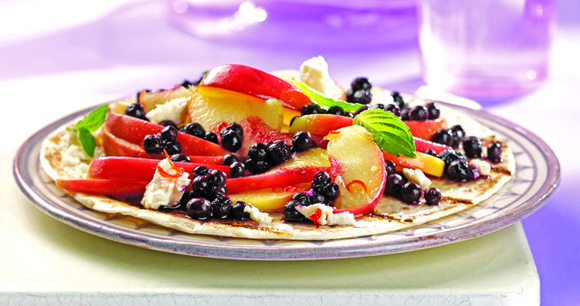 Wild about blueberries
Go wild with the healthy superstars of frozen fruit
Family Features
Stock up on a superfood that's a no-brainer: Wild blueberries have superior antioxidant capacity compared with other fruits and veggies. Best of all, these little blue powerhouses from Maine and Canada are also incredibly convenient, thanks to their year-round availability in your grocer's frozen fruit section. They're just as healthy as fresh and may retain their nutritional value longer.
Two quick tips to help pack a powerful nutritious punch into your diet:
• Make sure they say wild – Check the bag to ensure you're getting authentic, frozen-fresh wild blueberries. If the word "wild" isn't on the front of the package, scan the list of ingredients on the back.
• Check the size – Be sure to select the little wild ones. When in doubt, feel the berries in the bag – if they're "pea-sized," you've got the wild ones.
With twice the antioxidant capacity of larger, cultivated blueberries, wild blueberries freeze perfectly, retaining their superior quality, color and sweet, tangy flavor.
For more recipes that add a daily dose of blue to your diet, visit http://www.wildblueberries.com.
Did You Know?
Scientists and health researchers are studying wild blueberries to discover more about their anti-aging promise, including their potential to forestall cognitive aging, reverse short-term memory loss, improve motor skills and protect against cancer, heart disease and diabetes.
Spicy Tortilla with Wild Blueberries
Preparation time: 15 minutes
Cook time: 12 minutes
Serves 4
1 tablespoon canola oil, divided
4 small flour tortillas
2 apples, cored and thinly sliced
1 small red chili pepper, seeded and chopped
4 teaspoons packed brown sugar
Salt to taste
1 1/4 cups wild blueberries
2 ounces goat cheese
Fresh mint
In large nonstick skillet, heat half the oil over medium high heat. Fry each tortilla on both sides until golden. Set aside.
Return skillet to medium heat and add remaining oil. Cook apples and pepper for about 4 minutes or until beginning to soften. Add sugar and salt and stir to combine. Add wild blueberries and stir until cooked through. Divide mixture among tortillas and sprinkle with goat cheese. Garnish with mint before serving.
Old-Fashioned Wild Blueberry Muffins
Prep time: 15 to 20 minutes
Bake time: 18 minutes
Yield: 36 muffins
4 1/2 cups all-purpose flour
3 tablespoons baking powder
1/2 teaspoon salt
3/4 cup brown sugar
3/4 cup granulated sugar
2 1/4 cups low-fat buttermilk
1 1/2 cups (12 ounces) egg substitute
1/2 cup canola oil
6 cups wild blueberries
3 tablespoons granulated sugar
1 1/2 teaspoons ground cinnamon
In bowl, combine flour, baking powder and salt; reserve. In separate bowl, whisk together sugars, buttermilk, egg substitute and oil. Add to flour mixture and mix just to blend. Fold in wild blueberries. Combine sugar and cinnamon. Scoop 1/4 cup batter into each lined or greased 1/3-cup muffin tin and sprinkle each muffin with sugar/cinnamon mixture. Bake in 400°F conventional oven or 375°F convection oven 18 to 22 minutes or until firm to the touch. Serve warm.