Become united: A worldwide call to Africans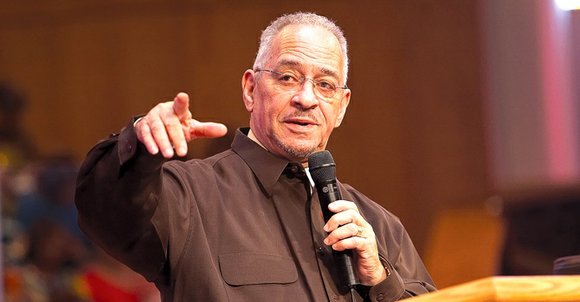 The Dallas Examiner
Dr. Jeremiah Wright Jr., pastor emeritus of Trinity United Christian Church in Chicago, gave the keynote address during a town hall meeting themed "Africans Must Unite at Home and Abroad: Revisiting Principles of Pan-Africanism." Hosted by the Dallas Chapter of the National Black United Front as apart of NBUF's 34th annual convention, the meeting was held at St. Luke "Community" United Methodist Church on July 11 through July 14.
Wright's speech was an adaptation of a report he recited at the 50th anniversary of All Africa Conference of Churches during it Golden Jubilee, a symposium commemorating the occasion, which was held in Kampala, Uganda, in June. As an international association that represents more than 120 million Christians in 39 countries, the AACC works to establish peace, justice and dignity in Africa.
At the symposium, church leaders from various countries addressed how Africans can overcome the ill-effects of colonialism, war, political upheavals, poverty and class struggles in order to bring Africa to its fullest potential.
In his report, Wright specified the people who comprise the African diaspora as the descendants of Africans who were transported from Africa to the Americas, Europe and Middle East during times of slavery. He used a quote by Malcolm X to explain that, despite the differences in nationalities and languages, all people of African heritage are Africans.
"If a cat crawls into an oven and has kittens in that oven, do you call those kittens biscuits?" he quoted.
Furthermore, Wright highlighted the similarities and differences in the struggles that Africans in Africa and within the diaspora have faced, overcame and still encounter. Using Genesis 42:8, 45:4 and Acts 2 and 8 as biblical references, he related the emergence of the Jewish diaspora to the African diaspora.
He explained how diasporic living has caused Africans everywhere to have different experiences, and as a result, different spiritualities. Nevertheless, he analyzed that these spiritualities have similarities. For example, they all have been instrumental in fighting against slavery, racism, segregation, apartheid, sexism, militarism and capitalism.
Wright urged all Africans to unite in faith to achieve greater African liberation. He believed that one challenge to this effort, however, was getting African youth to rely on their faith despite the secular forces that constantly surround them.
"The peculiar experience of living in this country with all of the influence of the secular way, such as hip-hop – not conscious hip-hop, not Mos Def – but misogynist hip-hop, Weezy and 2 Chains – is that this force pulls us away. Picture the mosque or the church. I got 25 minutes on a Sunday. They got eight hours of Rick Ross. They hear that all the time against my 20 minutes a week, and that culture gives them an influence," Wright said.
Television, he said, also distracts youth from their faith.
"When I was a kid, for instance, everything we saw on television, every married couple – Ralph Kramden and Alice [on] The Honeymooners, Ozzie and Harriet – they all slept in pajamas in twin beds with a piece of furniture between their beds. Now kids look on the television and see everything, and that pulls them away," Wright said.