Become united: A worldwide call to Africans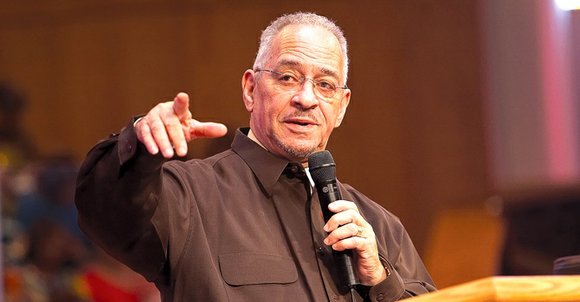 Following Wright's speech, the audience had an opportunity to have their questions answered by a panel of religious leaders.
Panel members included Rev. Dr. Henry L. Masters, senior pastor of St. Luke "Community" UMC; Pastor Shadrack Ruto, senior pastor of Upendo Baptist Church; Dr. Sheron Patterson, communications officer of The United Methodist of North Texas; Minster Wesley Muhammad of Nation of Islam Chicago; Pastor Princeton Abaraoha, elder of Westminster Presbyterian Church; Shiekh Tijan Badjie, imam of Gambian Community of Texas; and Nebiyou Damte, director of Christian Fellowship Ministries International.
Some of the questions raised were: Is President Obama successfully leading the nation and how can he better support the Black community? How can the community work towards self-improvement, community development, and psychological healing? Are reparations still owed to the community? And how can spiritual leaders address the issues of genocide and mass incarceration?
The meeting also included a pouring of libations ceremony, a performance by an African dance and drum troupe, and a selection of gospel songs sung by the St. Luke choir.
Dr. Frederick D. Haynes III, senior pastor of Friendship West Baptist Church, was scheduled to be the convener for the meeting, but was not present due to a scheduling conflict.
Samia Nkrumah, the daughter of Dr. Kwame Nkrumah, the first Ghanaian president who was instrumental in helping Ghana achieve independence from British rule, was featured as a special guest on Saturday at The Black Academy of Arts and Letters. She is the founder of Africa Must Unite, an organization that seeks social and economic equality for the citizens of Jomora, located in the western region of Ghana. The organization makes contributions to health care, education, infrastructures and other social assistance, as well as safeguards to the environment.
As the chairperson of the Convention People's Party, Samia has been a member of Parliament for the Jomoro Constituency since January 2009 and the first woman in her country to chair a major political party. She, along with three other females of the party, are known for marking a turning point for women in African politics and in the country.
Throughout the convention there were plenary sessions that examined topics such as Africans struggling to combat HIV/AIDS, why Africans need to control the economics in their communities, how to battle illiteracy among Africans, African liberation in the age of hip-hop, and who should pay reparations.
In addition to Wright and Samia, other guest speakers included Grammy Award-winning songwriter, music artist and activist Erykah Badu; Ray Winbush, director of the Institute for Urban Research at Morgan State University in Baltimore, Md., and author of The Warrior Method: A Program for Rearing Healthy Black Boys; and Cynthia McKinney, an activist and a former member of the House of Representatives.