Project Transformation
Dwayne Harris visits program to help transform children's lives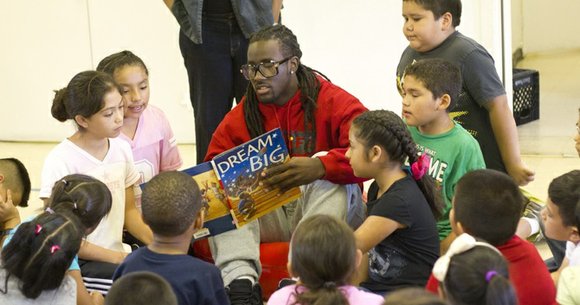 The Dallas Examiner
Before heading out to training camp in Oxnard, Calif., to get ready for football season, Dallas Cowboys wide receiver Dwayne Harris made a stop in Pleasant Grove as part of its Project Transformation program.
On July 16, Harris helped celebrate the organization's 15th anniversary of changing children's lives in North Texas by visiting children from low-income families and helping them improve their reading skills along with playing football with them at Urban Park United Methodist Church.
Eric Lindh, executive director of Project Transformation, said the organization's mission is three-fold.
"We serve children, college students and churches," Lindh said. "We host eight-week-long summer camps for children and youth in low-income communities throughout the Dallas-area and we have a heavy focus on literacy and summer reading. We are really focused on maintaining or helping kids improve their reading each and every summer. We also do afterschool programs for these kids with the help of college students and interns and help them explore their own unique passions and interests."
Harris said he loves working with children and wants to encourage them to be their best.
"It's all about the kids," Harris said. "I want to give them a good positive role model to look up to, which is always helpful. My message to them is to never give up on your dreams no matter what background you come from. Your dreams are always possible."
Harris, from Atlanta, Ga., said his life was a struggle. He shared his inspirational message with the students, read some books with them, and played touch football.
As he opened up to the children, he revealed that – with his mother working day and night just to put food on the table – he didn't feel like he had anyone to talk to or give him advice, and told the youth who had mentors to be thankful.
He then informed them that life is fun with good times and bad times, and they should "continue to be good people, stay in school, and go outside and play."
Despite his struggles, Harris went on to earn a degree in public relations from East Carolina University before being drafted by the Cowboys in 2011.
"Never let anyone tell you that you can't do something, no matter what it is or what you want to be," he said. "Also, don't let anybody tell you that you can't be great."
The program hosts about 100 students. Leslie Washington's daughter is in her fifth year with the project.
"I love the program," Washington said. "My daughter gets to do different activities with the Bible. She also gets to learn different things when she goes to camp. The people are so friendly and nice. Because of the love they have for the kids, they bring so much to the kids."
Valerie Ramirez, a senior at Skyline High School, is in her ninth year with the program.
"This is like a second home to me," Ramirez said. "Everyone gets along and it's a safe place where people can have fun and learn."