Protecting the vote
Attorney General seeks to force Texas to 'preclear' voting changes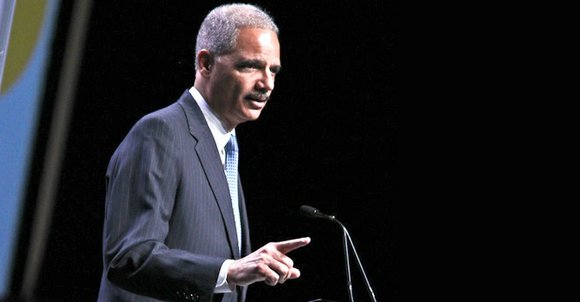 Texas appears to be an ideal target for the Justice Department because a federal court in Washington ruled last year that the state had intentionally discriminated against Latinos when it redrew its Congressional districts. The court threw out the map saying both parties had "provided more evidence of discriminatory intent than we have space, or need, to address here."
In announcing his upcoming action against Texas, Holder told delegates to the National Urban League convention, "This is the department's first action to protect voting rights following the Shelby County decision, but it will not be our last. Even as Congress considers updates to the Voting Rights Act in light of the Court's ruling, we plan, in the meantime, to fully utilize the law's remaining sections to ensure that the voting rights of all American citizens are protected."
After Texas, the next likely showdown will be between the Justice Department and the state of North Carolina.
The State Legislature there had passed legislation that, if enacted, would cut early voting by a week, eliminate same-day registration, require strict voter ID and end a popular program that pre-registers high school students before their 18th birthday.
According to Bob Hall, executive director of Democracy North Carolina, House Bill 589 also:
• Eliminates flexibility in opening early voting sites at different hours within a county.
• Eliminates straight-party ticket voting.
• Authorizes vigilante poll observers, lots of them, with expanded range of interference.
• Expands the scope of who may examine registration records and challenge voters.
• Repeals out-of-precinct voting.
• Makes it more difficult to add satellite polling sites for the elderly or voters with disabilities.
• Limits who can assist a voter adjudicated to be incompetent by a court.
• Repeals three public financing programs.
• Raises contribution limits to $5,000; and the limit increases every two years with inflation.
• Repeals some of the disclosure requirements of outside money.
The measure, rushed through in the closing days of the legislative session, was sent to Republican Gov. Pat McCrory for his expected signature.
In his address to the National Urban League, Holder said, "Although mandated by the Constitution, voting rights are not always guaranteed – in practice – without robust enforcement. That's why, despite the court's decision, I believe we must regard this setback not as a defeat, but as an historic opportunity: for Congress to restore, and even to strengthen, modern voting protections."
The 1965 Voting Rights Act expired after five years, but was extended by Congress in 1970, 1975, 1982 and for another 25 years in 2006. The last time, it passed the House 390-3 and the Senate 98-0.
However, in the current political climate, many are worried if Congress will continue to act in a bipartisan manner on voting rights.
Holder explained, "… This has never been a partisan issue. Every reauthorization of the Voting Rights Act was signed into law by a Republican president. It's a question of our values as a nation. It goes to the heart of who we are as a people. And it's incumbent upon Congressional leaders from both parties to guarantee that every eligible American will always have equal access to the polls; to ensure that we will never turn our back on the hard-won progress of the last hundred years; and to consider new solutions that are equal to the challenges of the 21st century. As this debate unfolds, it's important for all Americans to note that – despite the Supreme Court's flawed ruling – our voting rights remain fully intact."