Dallas Cowboys sign first round draft picks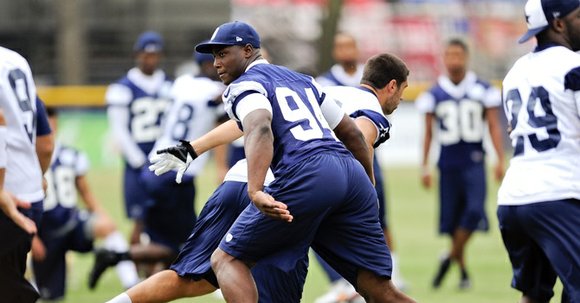 Williams hopes to compete for the third spot on the Cowboys Wide Receivers position, helping starters Dez Bryant and Miles Austin expand the team's offensive weapons and giving Romo more alternatives in his passing game.
Running back Joseph Randle hopes to give the Cowboys running game a little depth. Randle is the key backup to starting running back DeMarco Murray.
Randle finished eighth overall in career rushing for his college team, Oklahoma State, with 3,085 rushing yards. Randle was also ranked 19th overall in rushing yards in college football for the 2012 season.
As a running back at OSU, Randle trails former outstanding NFL running back, Barry Sanders, who is also a former OSU player, in points scored overall in a season. Randle scored 156 points, which is second behind Sanders points of 234 during a football season. Randle's points scored were also fourth best in the country. He also majored in economics at OSU.
One of the Cowboys biggest needs is that of a strong offensive lineman so that they can protect Romo when he throws the ball and also to help get rid of the defensive pressure on him.
With the drafting of Frederick, the Cowboys hope this rookie can help Romo snap the ball efficiently and timely without mistakes and also take the pressure off Romo by stopping the defense from blitzing and putting pressure on their star quarterback, giving Romo enough time to find an open receiver.
Frederick is a product of the University of Wisconsin, where his team did not allow a sack all season in 2012. He graduated with a computer engineering degree in mechanics at Wisconsin.
The Cowboys hope to use Frederick as the team's starting center. He played both guard and center at his alma mater.
And now to the defense.
They say in football, it's the defense that helps teams win Super Bowls by stopping an offense from scoring.
The Cowboys have a history of drafting outstanding defensive players that make an impact in games such as defensive players Sean Lee, DeMarcus Ware and former Cowboys defensive player Dat Nguyen.
This year proves no different as the Cowboys drafted three key defensive players in the draft.
Safety J.J. Wilcox of Georgia Southern hopes to help the Cowboys secondary this season. The rookie is multi-talented and has played on offense and defense.
As a safety, he had 77 tackles and forced three fumbles along with making an interception for Georgia Southern.
He has a management major from his school and hopes to help the Cowboys defense force several turnovers this season.
Another defensive player the Cowboys hope can help them in their secondary is Cornerback BW Webb from William and Mary.
Webb is known for forcing several interceptions during his time in college. Webb recorded 11 interceptions, which is the most for William and Mary in school history. He was also an outstanding special teams player and hopes to help the Cowboys on their special teams unit.
As a special teams player, he has a history of returning kicks for big gains and has returned kickoffs for 55 yards three times and also has recorded three punt returns averaging 98 yards and has returned a touchdown worth 91 yards.
Webb got his degree in kinesiology and health sciences from William and Mary.
And finally, the Cowboys hope to finish out their defensive unit by adding a strong linebacker when they drafted DeVonte Holloman from South Carolina.
Holloman is a versatile defensive player having played both safety and linebacker for South Carolina.
He hopes to improve the Cowboys defense by providing a strong blitzing package for the Cowboys.
Holloman had 207 tackles overall at his school and also forced two fumbles and had 13 passes broken up. He also recorded seven interceptions resulting in 118 yards in returns. This is the type of player the Cowboys are looking for, one who can do it all on defense, such as Holloman has proven as a college player.
Holloman has his business management degree from South Carolina.
All of these players the Cowboys drafted hope to make an impact in their rookie year. Their dreams came true to become an NFL player once the Cowboys gave them a chance.
Time will tell if these players will eventually help lead the team to their ultimate destination: a Super Bowl victory.