Morial calls for new Civil Rights Movement
George Curry | 8/5/2013, 1:28 p.m. | Updated on 8/5/2013, 1:35 p.m.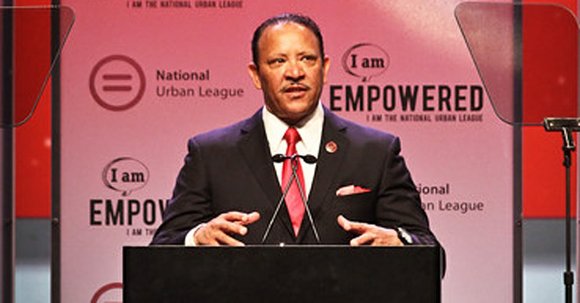 PHILADELPHIA – National Urban League President Marc H. Morial has called for "a new Civil Rights Movement," one that will focus on economic empowerment and justice.
Morial, now in his 10th year as president and CEO of the nation's second-oldest civil rights organization, announced his proposal on the evening of July 24, at his group's annual convention.
After citing tremendous progress made over the past 50 years, Morial said, "The challenge before us now is to create a new 'Civil Rights Movement for Economic Empowerment and Justice.' If 1963 was about jobs and freedom – two, zero, one, three is about economic empowerment and justice … a continuation movement standing on the shoulders of progress in which a new generation of Blacks, Whites, Hispanics, Native Americans, Asians, Jews, Gentiles, Protestants, Catholics, Hindus, Muslims – people from all walks of life, dispositions and orientations coalesce around working together to ensure that the promise of life, liberty and economic opportunity becomes real for this generation. We started it 50 years ago, and it's time to finish our business."
"Now, let me be clear. I do not naively believe that this happens overnight. But when we are all committed to the kind of progress that can advance our nation and our democracy toward the 'land of equal opportunity' that we can be, our shared vision can certainly outweigh our superficial differences," Morial said.
With a March on Washington planned for Aug. 24, the National Urban League leader said just as Blacks have fought for basic rights in the past, such as the right to vote and have full access to public accommodations, African Americans are now in another fight to preserve those gains.
"But there are extreme forces – not from Main Street or the mainstream for that matter – that seek to turn back the clock on 50 years of progress," he stated. "A small group of people with very loud voices and deep pockets are putting the rights of gun owners over the safety of our streets and the lives of our children. Those same people criticize our First Amendment right to peacefully assemble to express our grievances, yet favor those senseless Stand Your Ground laws that make our streets less safe, perpetuate ongoing conviction and incarceration disparities and lead to tragedies like the shooting death of Trayvon Martin."
Martin, 17 and unarmed, was shot to death by George Zimmerman, a neighborhood watch captain in Sanford, Fla., as he was returning to the home of one of his father's friends after purchasing a bag of Skittles and a can of Arizona Tea from a local convenience store.
"I was saddened as most of you when the verdict was announced. I've said it before, and I will repeat it here – with the not guilty verdict in the trial of George Zimmerman, the tragedy of Trayvon Martin's death has become a travesty and miscarriage of justice. We must accept the jury's decision under the due process of our legal system. But we have made it clear that this is far from over" said Morial, an attorney and former mayor of New Orleans.