Down, but not out
Civil rights leaders meet with President Obama on Voting Rights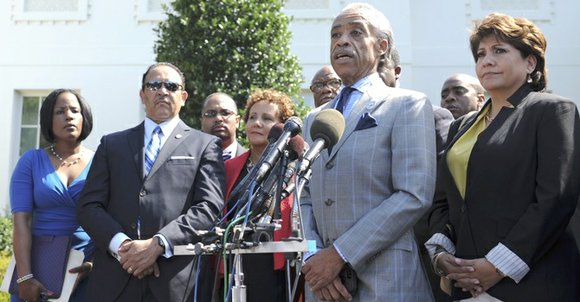 WASHINGTON (NNPA) – The Voting Rights Act is down, but not out, and civil rights leaders joined President Obama and Attorney General Eric H. Holder Jr. at the White House July 29 to discuss renewed efforts in the fight against voter discrimination.
In a statement released after the meeting, Al Sharpton, civil rights activist and president of the National Action Network said: "Today the United States president and attorney general met with a broad coalition of civil rights and voting rights leaders to assure us that they will continue to work with us to protect every American's right to vote."
Sharpton continued: "We had a great alarm when the Supreme Court ruled against Section 4 of the Voting Rights Act but after meeting with the president and the attorney general we were assured that the Voting Rights Act may be wounded but it is not dead. It is not even critically wounded; it can and will be revived."
Last month, the Supreme Court, struck down Section 4 of the Voting Rights Act of 1965, effectively neutering what many called the crown jewel of the Civil Rights Movement. Section 4 required all or parts of 15 states with track records of voter discrimination to get "preclearance" from the Justice Department or a federal court for any changes they wanted to make to voting laws. Within hours after the Supreme Court ruling in Shelby County v. Holder, a number of state lawmakers from previously covered states announced plans to move forward with restrictive voting laws that disproportionately affect minorities, the elderly and young voters.
Texas is one of those states.
The Lone Star State has a history of voting discrimination, the latest entry due to redistricting plans that disproportionately affected minority voters.
During a speech at the National Urban League's annual convention, Holder said that, "the State of Texas should be required to go through a preclearance process whenever it changes its voting laws and practices."
Holder plans to use remaining sections of the law to go after states that continue practices that intentionally discriminate against voters.
Barbara Arnwine, president and executive director of the Lawyers' Committee for Civil Rights Under Law, said that uncovering and fighting voter discrimination in the current landscape is a daunting task, but she was encouraged to see how much the Department of Justice is strategizing and positioning itself to be a real force in combating racial discrimination.
Atlanta Mayor Kasim Reed said that civil rights leaders and voting rights advocates will be doing more education than ever.
"While there are a number of adverse tactics being used to undermine the right to vote, if we do our job we will make sure that people maintain access to the ballot," Reed said.
Reed said that he plans to work with mayors across the nation to form partnerships with civil rights organizations to assist in voter engagement and education.
Marc Morial, president and CEO of the National Urban League, said that voters must "be particularly vigilant on proposals in state legislatures when they happen, not when they gain momentum, but when they happen."