Down, but not out
Civil rights leaders meet with President Obama on Voting Rights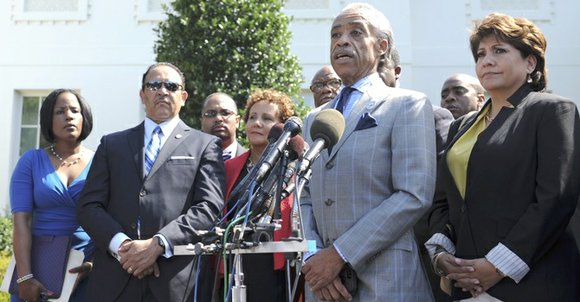 Arnwine said that her group will be looking at all the states and plans to conduct hearings nationwide to assist Congress in obtaining the data that will be necessary to create a new voting map.
"[Obama] is committed to making sure that the right to vote is secure and strong and that he's also calling on people to do everything they can to protect their right to vote," Arnwine said. "Ultimately, it's about what the citizens will do."
Arnwine's group is part of a larger coalition formed to assist embattled voters around the nation (The Election Protection website is http://www.866ourvote.org; telephone, 866/OURVOTE).
Melanie L. Campbell, president and CEO of The National Coalition on Black Civic Participation, said that young voters have increased their civic engagement, rallying around recent Supreme Court decisions on affirmative action and the Voting Rights Act.
"Our young people are connecting the dots," Campbell said. "They connect the Stand Your Ground law to the voting rights law, so part of what's going to happen during the 50th anniversary of the March on Washington, you will see young people coming here for training and teach-ins, because they understand that the rights that need protecting all center around the Voting Rights Act."
The commemorative march in Washington will be on Aug. 24.
"The Supreme Court decision has had a catalyzing effect. The Trayvon Martin tragedy combined with the Supreme Court decision [in Shelby v. Holder] really has energized people," Morial said. "You've got Moral Mondays in North Carolina, the Dream Defenders in Florida. The great thing about the Dream Defenders is seeing young people that are engaging and they're not looking for permission."