Jobs still a key issue 50 years after historic D.C. march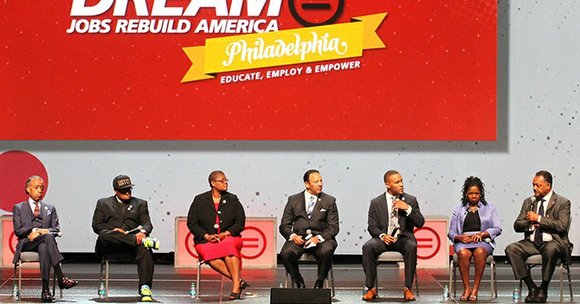 PHILADELPHIA (NNPA) – One of the primary goals of the 1963 March on Washington was finding or creating jobs for Blacks. At a panel discussion during the annual convention of the National Urban League, jobs was mentioned more frequently than any other topic as leaders discussed the famous march 50 years ago and an upcoming one planned for Aug. 24.
Barbara Arnwine, president and executive director of the Lawyers' Committee for Civil Rights Under Law, said employers are increasingly using measures that have nothing to do with job performance that disproportionately limits the ability of African Americans to gain employment.
"I need you to make sure that your state has a law that says very clearly that you cannot use the fact that somebody has been arrested as a reason not to employ them," she told convention delegates. "A mere arrest tells you nothing."
Sounding more like an evangelical preacher than the lawyer that she is, Arnwine drew loud applause when she said, "You need a state law that says to employers that credit checks have nothing to do with your ability to work. If your credit is bad, it's because you don't have a job. Get real."
Al Sharpton, president of the National Action Network, said the private sector needs to assume a larger role in reducing Black unemployment, which stood at 12.7 percent when Obama took office and rose to 13.7 percent in June, twice the White employment rate of 6.6 percent. According to the Department of Labor Statistics, more than 2.5 million Blacks are unemployed.
"Ever since President Obama has been in, there has been an increase in jobs in the private sector, but Black unemployment has not decreased. Why? Because we work [disproportionately] in the public sector," he explained. "So while the private corporations who now don't have to deal with us because the Supreme Court is knocking down affirmative action, they are not hiring us. The public sector is being cut down with agencies and programs – we're being minimized in the public sector."
But Sharpton said Blacks have the economic leverage to force companies to hire more African Americans.
"We need to renegotiate Black America's understanding – we called them covenants – with the private sector," he said. "The court can say all it wants about affirmative action, we have the consumer power to say to companies that do business in our communities that, 'You must have targets of doing jobs in our community.' They can't make us buy from those who won't hire us."
Jesse Jackson said that all levels of government should also be held accountable.
"In Chicago, there are 81,000 vacant lots," he stated. "They cut public housing and they foreclosed on private housing. They've cut public transportation, cut trauma care. Cut public schools. There is no present plan to bring us out of that isolation. And I think the government has some obligation."
Especially a government and nation as rich as the U.S., according to Marc Morial, president and CEO of the National Urban League.