Jobs still a key issue 50 years after historic D.C. march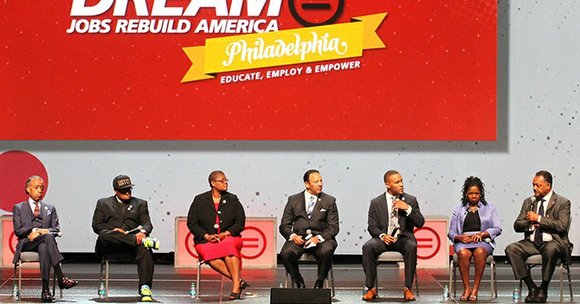 "We've got a $15 trillion economy in the United States of America, the largest economy in the world," he stated. "And it is unacceptable – Dr. King talked about it and Whitney Young talked about it – for there to be these vast oceans of poverty amid all the plenty. So many are doing well and so many people are left behind."
He said many U.S. tax and trade policies are misguided.
"American public policy is focused on job creation," Morial said. "A significant part of it is focused on job creation in the wrong places. For example, there's a huge infrastructure rebuilding program that the people of the United States are paying for. The problem is it's for the reconstruction of and rebuilding of Baghdad. It's for the reconstruction of Kandahar …Your and my tax dollars are being invested. That could be and should be redirected to Philadelphia, to Baltimore, to Boston. Secondly, United States trade and tax policies are encouraging job creation. But they are encouraging job creation in China, in India and overseas."
Closer to home, far away from Iraq and Afghanistan, Rev. Lennox Yearwood Jr., president and CEO of the Hip Hop Caucus, said that unlike civil rights veterans, many youth are not eager to participate in marches.
"My generation just doesn't want to march for marching's sake," he said. "We got to march for a reason. Trayvon is one reason. Voting rights is one reason. We much push for policy."
Proving Yearwood's point, a young member of the audience gently questioned the value of marching.
"I'm concerned about those who are tired of marching who have never marched," Jackson said. He noted that all demonstrations were undertaken with specific goals in mind and marching is simply a means to an end.
Sharpton agreed.
"You say why march about voting?" he asked, rhetorically. "Well, that's how we got it the first time. We did not get voting rights at a cocktail sip, trying to have racial harmony sessions. We got it by organizing and galvanizing and the only way we are going to make changes is by organizing and galvanizing."
Morial said recent changes in federal student loan programs are threatening the existence of some Historically Black Colleges.
Recalling a recent conversation with Norman Francis, who has been president of Xavier University in New Orleans for 45 years, Morial recounted, "He said that the effect of the changes to the student loan program cost the member-colleges of the United Negro College Fund $50 million."
Morial said he heard similar stories from other HBCU presidents.
"I spoke the other night to the president of Lincoln University [in Pennsylvania]. This was a stunning piece of information. He said, 'I'm going to lose half of my freshman class. They cannot come back.'
"There is something deeply flawed when young people who have gone to high school, graduated from high school, gotten admitted to colleges and universities, successfully completed one year and cannot go back even if they have A's and top-level scores. They can't go back because of money."