The Butler
The Civil Rights Movement told from a different angle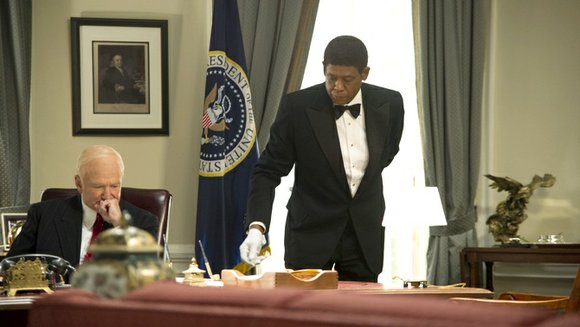 The Gaines' parent/offspring conflict seems raw and personal; at the same time it represents the wide spectrum of opposing political and social viewpoints in the Black community. On screen you see a temperate Black man mingling with Republicans, a young Black man being beaten by police. The clashing actions conjure deep, profound emotions because of the father and son's combustible and often archetypical relationship. Cecil's the old guard, poor Blacks that rose to the middle class and felt little need for agitation. Louis represents the counter-culture offspring, activists who thrive on confrontation.
Gloria warns Louis, who is eager to join protests: "They gonna lynch you and throw you're a– in the river." Louis: "Then they gonna have to kill me." Gloria: "Everything you are, everything you have, is because of this butler." The long-suffering dad: "Every gray hair I have is cause of that boy." The Gaines engaged in genuine conversations that countless parents had with their offspring during the '60s and '70s, when the country shed old values for the new.
Cecil's character arc is long and slow. It's very fulfilling to watch the elderly man evolve. And, capitulation is a theme that reverberates throughout the film, as presidents change their opinions on civil rights and equality.
Eisenhower, JFK, Johnson, Reagan are presented as imperfect people, making far-reaching decisions on segments of the population they simply don't understand. None are drawn as all evil, or all good.
Daniel's directing career is a study in contradictions. His previous films run the gamut. Shadowboxer: Stylish, but very esoteric. Precious: Heartwarming, but off-putting. The Paperboy: A repulsive miscalculation. Yet somehow, those films prepared Daniels for this stroke of genius. It's as if he's risen to his full-potential.
Skillfully, he interweaves prissy White House parties, with brutal racist attacks and archival footage.
He takes complicated ideas and formats and turns them into easily discernible filmmaking. The juxtapositions are striking. You never question the validity of a scene. You feel more like an observer of history or a nosy neighbor spying on a family in discord. In all actuality, a lot of this film is fiction built on fact (read The Washington Post article after you see the movie). Party scenes at the Gaines' house feel like get-togethers at Black homes, back in the day. Card games. Cocktails. Mom's potato salad. Casual conversations about politics, social issues, work and the gossip evoke graphic memories of the times.
Winfrey's performance grows on you. You know you're watching a billionaire mogul on the screen, but her acting overwhelms her pop-culture persona. By the end of the film she's worn you down, and Gloria feels like that pushy aunt who was always the life of the party. Whittaker's portrayal is even subtler as he ages from a young man to an octogenarian. The nuances of his scenes with presidents, jovial moments with colleagues, and the turmoil at home make Cecil feel authentic. Oyelowo's passage from teen to middle-aged man is equally mesmerizing. He works the anger emotion well. Howard, as the neighborhood lothario with a blatant sexuality and volatile temperament, is suitably edgy. Kelly and Marsden embody Jackie and JFK, and other various cameos are right on target. Minus Mariah Carey, who seems miscast, though her performance is solid.