March on Washington for Jobs
Is it headed in the right direction?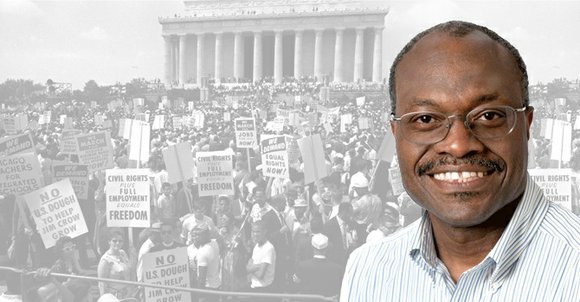 "When workers had a voice, they had a way of making sure that the pie was going to be divided up a little more fairly," said William Spriggs, chief economist for AFL-CIO, an umbrella group for labor unions in the United States.
Spriggs said that, since the 1970s, more of the pie goes to profits and interest, and less goes to workers. As the pie shrinks, workers fight amongst themselves over a smaller and smaller pie.
"We're not creating a smaller pie. We have to point to the right people who are creating a smaller pie," Spriggs said. "We need the government to take the side of those of us who are earning our pay versus those of us who are speculating on Wall Street and betting on horses."
Pushing the labor movement as a change agent may be a tough sell for today's workers, who participate in unions with less frequency than generations past.
Even though 13.1 percent of Black workers are union members, the Labor Department reported that the union membership rate for all workers was just 11.3 percent in 2012. In 1983, the membership rate was 20.1 percent.
Spriggs also suggested that Wall Street titans pay for cleaning up the whole mess, not just the mess that let them get their jobs back and their bonuses back and then argue for tax cuts. Spriggs called for a "financial transaction tax" targeting the more perilous gambles made by Wall Street investors.
"We saved AIG that was bankrupt, we can save Detroit that's bankrupt," Spriggs said. "And if the AIG [employees] that caused the downturn in the first place can get a bonus, because it said in their contracts that they had to get a bonus, then Detroit city workers can get a pension, just like it said in their contracts."
Like other panelists, Spriggs suggested that some employment disparities may be beyond current policy reform.
"While an outcome of the 1963 march was the establishment of the Equal Employment Opportunity Commission, it wasn't enough," Spriggs said. "What people need to think about with the Trayvon Martin case is understand what that jury was saying about young Black men."
Spriggs continued: "Once you really understand what that jury was saying about young Black men, do you really have to ask why do young Black men have a hard time getting a job?"
Roger A. Clay Jr., former president of the Insight Center for Community Economic Development, said that the fear of Black men and Black boys goes back hundreds of years.
"The simple answer is people are afraid of us," Clay said. "Generally, the fear is not based on experience and it's not based on fact."
Clay continued: "On this topic I'm not that optimistic, because I think the fear is so deep-seated, it really is going to be hard to turn that around."
The Labor Department reported that Blacks 16-19 years old faced a 41.6 percent unemployment rate and less than 30 percent were either employed or looking for work in July, compared to a 20.3 percent jobless rate and a 37 percent labor force participation rate for Whites. Black men still suffer the worst unemployment rate among all adult-worker groups.
"We're not going to get racial justice until we end disparities in the criminal justice system," said Kica Matos, director of Immigrant Rights and Racial Justice Center for Community Change. "The criminal justice system touches the lives of so many people of color and so many communities that we will never get racial justice until we do away with disparities in the criminal justice system."
Even though some of the panelists expressed doubts about the ability of lawmakers, civil rights leaders and everyday Americans to come together to solve the problems surrounding economic inequality, some were more optimistic.
"We are clearly moving beyond our evil past into a time where we will be very different," said Angela Glover Blackwell, founder and CEO of Policy Link, a research group that advocates for economic and social equity. "We will get there, it is inevitable, but the old guard is afraid of losing and the last gasp can be a dangerous time and that's exactly where we are right now."