Private struggle of Jesse Jackson Jr. revealed
8/19/2013, 6:30 p.m. | Updated on 8/19/2013, 7:55 p.m.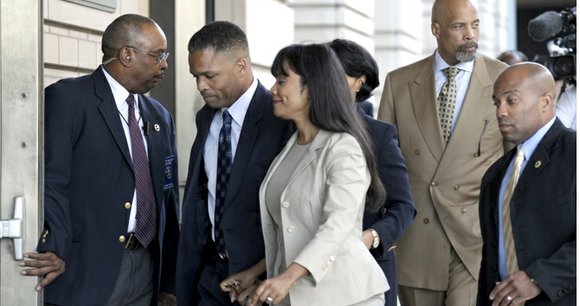 WASHINGTON (NNPA) – When the story broke that former Congressman Jesse L. Jackson Jr., D-Ill., had used political donations as his own piggy bank, many people were surprised. Even though prosecutors said Jackson spent thousands between August 2005 and April 2012 at restaurants, nightclubs, on travel, high-end electronics and a gold-plated Rolex watch, it was the expenditures that seemed like he was preparing for a Halloween party that received the most attention and ridicule.
There was $10,105 in Bruce Lee memorabilia; $14,200 in Michael Jackson memorabilia, including a $4,600 fedora; a black and red cashmere cape, a reversible mink parka along with memorabilia from Malcolm X, Dr. Martin Luther King Jr. and Jimi Hendrix.
The younger Jackson became the butt of late-night jokes. But a reading of the letters submitted to the judge on his behalf provides deeper insight into the younger Jackson's character and how his illness altered his behavior. Jackson, who resigned from Congress as part of his plea deal, was scheduled to be sentenced on Wednesday.
His sister, Santita, the oldest of the five Jackson children, wrote that having a famous civil rights leader as their father made life anything but normal.
"Throughout our lives, particularly our young lives, our Father's name was far more controversial than celebrated and actually, depending upon where you stood it was a name that was at least as infamous as it was famous," she wrote. "We lived with daily assassination threats, armed security in our home and the probability – not the mere possibility – that our Father could be taken from us at any moment, as had happened to so many before him. My Siblings and I rarely discussed the fears surrounding those realities with one another; the idea of life without our Father was too heartbreaking – and too near our reach. But we, each in our own ways – and none more than Jesse – resolved to make each day our best day, because each day could have been the last day that our Father would be alive to have seen any of us.
"I neither knew how deeply nor the extent that he [Jesse Jr.] felt the pressure of our existence until I read a WASHINGTONIAN Magazine article in which he said that you never feel 'quite the same way about rebelling against your Father if every time you see him could be the last time that you see him.'"
Santita said her younger brother, like the rest of the children, had to earn his own way in life.
"When he wanted a car in in high school, he became a busboy at a restaurant – starting his shift at 4:30a and taking the bus at 3:30a – in order that he earned the monies necessary to purchase his used Camero," she wrote. "When he met his Beloved wife Sandra, he recognized her talent and ambition – and her need for support. He took on the responsibility for her tuition, housing and transportation – all before he married her. All these things he did and more, because he learned and believed that a man accepts the obligations for those he loves – be they 'the people' 'a person'; ultimately, a man takes care of his own."