Private struggle of Jesse Jackson Jr. revealed
8/19/2013, 6:30 p.m. | Updated on 8/19/2013, 7:55 p.m.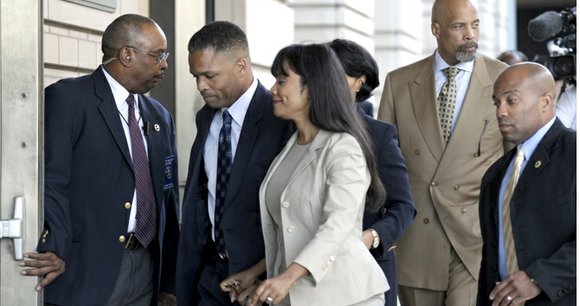 Marty King, a childhood friend, wrote: "Jesse not only shared his Dad but he also shared his Mom and his Dad's friends as well. The only thing Jr. required in return was for you to volunteer to serve in some capacity. It was classic self-less-ness. There are several dozen of us that would not have gone to college or been successful without this selfless act by Jesse Jr. He increased our dream quotient, he gave us life options that we never knew existed, he provided a college experience for many of us even when we were kids. He allowed us to search our hearts and our dreams through people who had achieved the highest honors in the world. He provided real life exposure and examples that enabled us to dream beyond our greatest imagination."
Another friend, Alanna Joi Ford, expressed similar feelings. She wrote, "Frankly, I had never met a young gentleman until I met Jesse Jr. Fathers, grandfathers, uncles, teachers and businessmen were gentlemen but not young men. I held the young men I would encounter in life to the standard that Jesse Jr. presented. It has served me well. He urged us all to be better and because of him, I am better, still."
Dr. Alvin F. Poussaint, a professor of psychiatry at Harvard University, said he has known the Jackson family since the 1980s and was always impressed with Jackson's maturity and intellect.
"As a psychiatrist, I believe that any of his current difficulties stem from the reported mental disorders he experienced, as some of his behavior has not been in keeping with the solid character he displayed as a younger man," Poussaint said. "His bizarre activities are consistent with the diagnosis of a bipolar disorder. His mental condition is certainly a mitigating circumstance that may explain the awful mistakes he acknowledges in his plea agreement."
Jesse L. Jackson Sr. wrote, "I am not sure at what point Jesse Jr. began to foil his own ambitions, whether the depression began to set in, whether the duodenal bariatric surgery, which requires strict medical discipline or where the bi-polar disorder fit into the trajectory. But I do know that when we as a family realized this, he has been under substantial medical treatment for recovery and is honoring his doctor's prescription. I am anxious to see him continue his service and work as he recovers."
David R. Slane, an attorney in Oklahoma City, said: "I do believe he is an individual that should be considered for a downward departure under the Federal Sentencing Guidelines as it relates to his very serious mental illness. As I am certain that you are aware, he suffers from a bipolar disorder. I have personally observed and witnessed Mr. Jackson at times where I saw a change in his mental capacity and his thought process. I am certain that this mental illness is not the cause of the legal problems is certainly a major contributing factor."
In her letter, Rep. Marcia Fudge, D-Ind., said, "Although some members of Congress and I saw Jesse exhibit what we know were various signs of illness during the last four to five years, we also saw him continue to work as a tireless advocate for the poor and under-served."