Private struggle of Jesse Jackson Jr. revealed
8/19/2013, 6:30 p.m. | Updated on 8/19/2013, 7:55 p.m.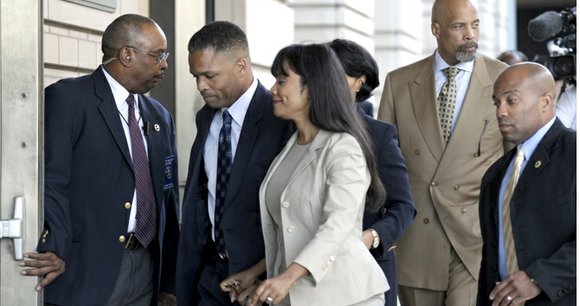 The most vivid description of the younger Jackson's mood swings came from Rep. Hank Johnson, D-Ga., who suffered from bouts of depression.
"I have known Jesse since Jan. 1, 2007. He was one of the first to welcome me into the 110th Congress, and I recall at our first meeting being thrown off by his upbeat greeting. I was somewhat surprised by how upbeat he was in welcoming me to Congress … given the fact that he was a confidante of my predecessor [Cynthia McKinney], whose seat I had taken in a hotly contested primary election.
"It didn't take very long before I began to notice that Jesse was not always upbeat. He would sometimes walk right past me and instead of a cheerful 'hello,' it would be a sullen acknowledgement of my presence. Then the next encounter would be more upbeat. After experiencing this type of on/off behavior a few times, I took it as a sign that Jesse had a problem with me, which only confirmed what I suspected from the very beginning.
"So I decided to treat Jesse just like he treated me. I did not want to deal with him if he didn't want to deal with me. I took Jesse's demeanor personally, and my negativity was heightened by my own depression I was feeling because of heavy medication that I was taking for my own ailment at the time.
"This period of indifference was what marked my relationship with Jesse for some number of months thereafter. During that time, I began to observe Jesse and it seemed to me that his demeanor would change from night to day and from day to night, but he seemed mostly angry or sullen. I just couldn't put my finger on what Jesse was about. I noted Jesse's behavior on the House floor.
"On some occasions he would sit by himself while matters were being debated, and while the other members were discussing matters and socializing among themselves, Jesse would be sitting silently by himself, shutting off all communication while displaying a sullen demeanor. At other times, he would act the exact opposite. He would sit with members and act as if … he was the life of the party. He would talk and laugh loudly, and he would claim the center of … attention.
"… It was only later when news of Jesse's illness became public that I began to realize that I was not the only one who had been depressed.
"By the time the news broke, I was medication-free and feeling great. I now know that my friend Jesse had all along been suffering and that his suffering was longstanding and more intense than any that I had experienced.
However, through my own limited experience with depression, I can relate someone to the illness, and it pains me to know that I was not as kind to Jesse as he was to me, and that I never knew enough about the illness of depression – from which we both suffered – to be able to help my friend get the help that he needed long before he hit bottom."