Remembering John F. Kennedy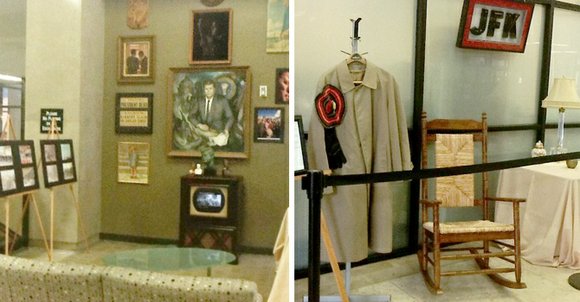 The Dallas Examiner
The city of Dallas will never forget Nov. 22, 1963, the day President John F. Kennedy was assassinated in Dallas.
This November will mark the 50th anniversary of the day Kennedy, the 35th president of the United States, was murdered. The assassination has transformed the nation and has many people reflecting on this historic event even today.
Many may not be aware that, as a senator, his brother, Robert, placed a phone call that helped to insure Dr. Martin Luther King was released unharmed after being arrested during an Atlanta sit-in protest, while Kennedy called Coretta, King's wife, to offer support. Based on his promise of equal rights, a high percentage of Black votes helped to elect Kennedy as president. While Kennedy was not outspoken about civil rights, he did appoint a large number of African Americans to high positions in his administration to champion the cause. Also, he was vocal about equality in education and employment.
"It ought to be possible, in short, for every American to enjoy the privileges of being American without regard to his race or his color," Kennedy told America during a 1963 address. "In short, every American ought to have the right to be treated as he would wish to be treated, as one would wish his children to be treated. But this is not the case."
To commemorate this special anniversary, Ralph Isenberg, who is the principle owner of the Bank Tower at Oak Cliff, will host "John F. Kennedy: A Community Remembers," a unique exhibit of the life and death of JFK in the tower lobby, located at 400 S. Zang Blvd.
"The assassination of John F. Kennedy woke the United States up as a people to what could go wrong in this country," Isenberg said. "It was a single event, in other words, a single man was killed and we were never the same."
The display features artwork, interactive exhibits and historical memorabilia and will run from August through December. Isenberg said what makes this exhibit different is the active participation from viewers required.
One feature is the "Where were you," display which asks people to give their input on four recent tragic events.
"It really is multiple displays and not just one display," Isenberg said. "Unlike other events planned by the city of Dallas and other organizations, this event shall focus more on the cultural, historical and artistic aspects of the Kennedy presidential era."
Different sections of Kennedy's life will be displayed throughout the bank lobby on the first floor of the building. Sections are divided into areas called America Mourns, America Changes and Peaceful Reflections.
"In America Mourns, we took an old television from the 1960's and took the screen off of it and replaced it with a modern day computer screen," Isenberg said. "Folks will actually be able to sit and watch Walter Cronkite broadcast the news of the assassination and we will be rotating that with the actual funeral of President Kennedy."
The old television display and broadcast of the assassination has caught the attention of several visitors to the tower.