March on Washington Mosaic Stamp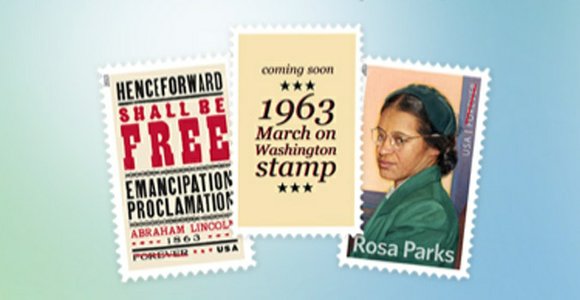 Special to The Dallas Examiner
This month, Americans will celebrate the 50th anniversary of the March on Washington. To celebrate and honor this landmark moment in our nation's history, the U.S. Postal Service will release a limited edition 1963 March on Washington Mosaic Stamp. For the first time, the U.S. Postal Service will digitally unveil the new stamp artwork – with the participation of American citizens. Supporters can add themselves to the stamp by visiting https://www.facebook.com/USPSStamps/app_139757042900645 and adding their Facebook and Twitter profile photo to the stamp mosaic.
Each individual's photo will unveil a small piece of the 1963 MOW stamp artwork and become a pixel in the virtual stamp mosaic. As more people contribute to the mosaic, more pieces of the stamp will be revealed.
On Friday, actress Gabrielle Union will submit her own contribution to the mosaic during a first-day-of-issue ceremony at the Newseum in Washington, D.C., which will trigger the reveal of the full stamp artwork.
The complete Civil Rights Stamp Series can now be pre-ordered at https://www.usps.com/stamps, which includes the 150th anniversary of the Emancipation Proclamation and the 100th anniversary of the birth of Rosa Parks.