'Stop-and-frisk' policy declared unconstitutional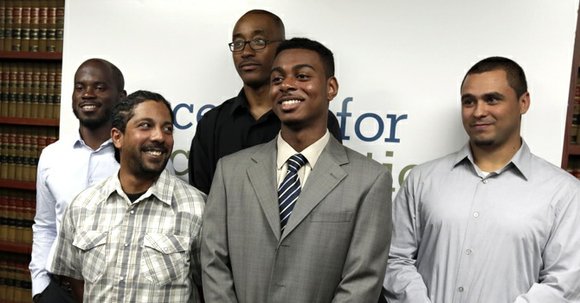 WASHINGTON (NNPA) – The stop-and-frisk policy practiced by the New York City police department was little more than "indirect racial profiling," according to a federal judge who ruled that police routinely violated the Fourth and 14th Amendment rights of Blacks and Latinos.
Mayor Michael Bloomberg scoffed at the ruling, saying, "This is a very dangerous decision made by a judge who I think does not understand how policing works."
The New York Civil Liberties Union analyzed how policing works in the nation's largest police department and found that "NYPD stopped and interrogated people 532,911 times, a 448-percent increase in street stops since 2002 – when police recorded 97,296 stops during Mayor Bloomberg's first year in office."
The NYCLU report, titled Stop and Frisk 2012, also found that 90 percent of the people who were stopped were innocent and roughly 55 percent were Black. NYPD stopped and interrogated Whites less than 10 percent of the time.
Even in some New York City neighborhoods with low minority populations, Blacks and Latinos still made up 70 percent of the stops.
"The NYPD defends its abusive stop-and-frisk program as the reason why New York City's streets are safe. But last year stops went down 22 percent and homicide was at an all-time low," said NYCLU Associate Legal Director Christopher Dunn in a statement following the release of the report. "This gives the lie to the NYPD's repeated claims that more and more stops are needed to save lives."
Opponents of New York City's stop-and-frisk policy often cite the low number of stops that actually netted weapons. Police recovered weapons during 1.8 percent of the stops of Blacks and Latinos. When Whites were stopped a weapon was recovered 3.9 percent of the time.
Writing in her opinion, Judge Sheindlein noted this disparity. "Once a stop is made, blacks and Hispanics are more likely to be subjected to the use of force than whites, despite the fact that whites are more likely to be found with weapons or contraband," she wrote.
Many civil rights groups argue that Bloomberg's stop-and-frisk policy is wasteful, given the police department's own data and the harm that it causes in minority communities who often have a distant and suspicious relationship with law enforcement.
"Basically, what Bloomberg is saying is that it doesn't matter that a 13-year-old is being handcuffed and taken to the precinct when he is on his way home, it doesn't matter that somebody who is walking across the street after taking care of his mom is pushed against the wall and profiled," said Kimberlé Crenshaw, law professor at the University of California at Los Angeles and co-founder of the African American Policy Foundation, a nonprofit organization that advances racial justice, gender equality and human rights. "What matters is that very small percentage that we think might have been deterred from doing crime has been deterred."
Barbara Arnwine, executive director of the Lawyers' Committee for Civil Rights Under Law, said that the decision in New York City might lead to federal lawsuits in other major metropolitan areas where police employ stop-and-frisk tactics.