Activists sue to overturn N.C. voter suppression law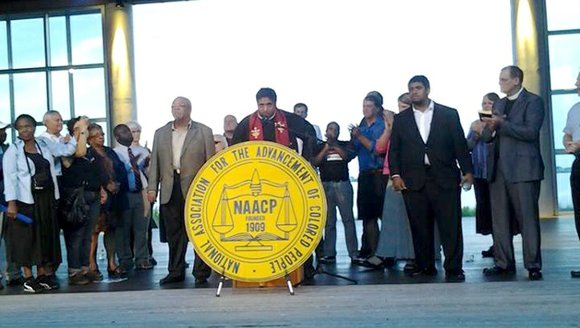 The statement continued, "During the 2012 election, 2.5 million ballots were cast during the early voting period, representing more than half the total electorate. More than 70 percent of African-American voters utilized early voting during the 2008 and 2012 general elections."
Vocal opposition to McCrory's signing of the omnibus elections bill in the state was swift and fierce.
"Once again, the Republicans have come up with a solution in search of a problem. But this time, they're going after our very freedom," said North Carolina Democratic Party Chairman Randy Voller. "With Gov. McCrory signing the voter suppression legislation passed last month by the extremists in Raleigh, we now know they will literally stop at nothing to tighten their hold on their perceived power."
Voller continued, "What we will see upon the enactment of this legislation is an increase in the number of hours North Carolinians spend voting, further disenfranchising working families from participating in our elections. Also, many of our seniors and economically disadvantaged won't be able to successfully complete the process for obtaining a government identification card. At a time when more and more people are feeling frustrated by the inaccessibility and ineffectiveness of government, I believe, as do a majority of North Carolinians, that we need to increase access and strengthen our electoral system. Instead, the Republicans have chosen to do the exact opposite."
State Attorney General Roy Cooper, seen as one of the most probable Democrats to challenge McCrory in 2016, started a Change.org petition drive last week to urge McCrory not to sign the measure.
"This regressive elections law restricts voting, allows more corporate money into politics and reduces public disclosure for special interests looking to influence elections," Cooper said in an email sent to supporters from his re-election campaign. "Plus it cuts short the time for early voting and stops those who go to the wrong precinct from casting provisional ballots. And on and on.
"I urged the Governor to veto and more than 17,000 of you joined me in just four days," Cooper continued. "Though I'm appalled that the bill is now law, I am encouraged by your response."
U.S. Sen. Kay Hagan, D-N.C., immediately wrote to U.S. Attorney General Eric Holder – who has already vowed to fight racially discriminatory voter suppression laws in the aftermath of the US Supreme Court crippling the 1965 Voting Rights Act – asking him to step in.
"I am deeply concerned that H.B. 589 will restrict the ability of minorities, seniors, students, the disabled, and low and middle incomes citizens to exercise their constitutional right to vote," Sen. Hagan wrote. "I strongly encourage the Justice Department to immediately review North Carolina House Bill 589 and take all appropriate steps to protect federal civil rights and the fundamental right to vote."
U.S. Congressman G. K. Butterfield, D-N.C., also sent a letter to Holder asking him to, "…take swift and decisive action by using any legal mechanisms at your disposal to protect voting rights for North Carolinians.
"Like you, I have fought my whole life for equity in voting," Butterfield wrote. "I spent my entire legal career advocating for civil rights and helped to expand rights for minorities. Now, as a Member of Congress, my fight continues. I simply cannot stand idly by and watch overtly discriminatory and racially motivated initiatives go unchallenged. I am outraged. I strongly urge you to utilize any and all legal avenues at your disposal to fight this horrible law that turns back the clock on a generation of progress for voting rights."