Engineering solutions for DFW's biggest challenges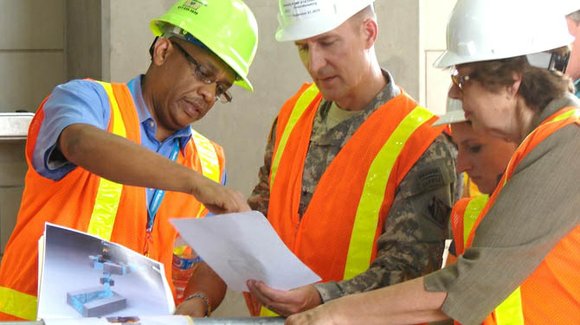 He advised that everyone swimming in recreation areas should wear a life jacket at all times and should not consume alcoholic beverages before swimming and/or when boating. Moreover, Kula warned that people should not attempt to save drowning victims by swimming towards them.
"The biggest thing we teach is to 'reach, throw, but don't go.' Reach with a paddle. Reach with something where you can pull them back to the boat. Throw at them a life vest or something that's going to help keep them afloat, but don't go. Multiple drownings happen when somebody jumps in and tries to help a drowning victim," Kula said.
Kula additionally touched on the district's attempt to preserve the environment. For example, the district recently released the Alligatorweed Flea Beatle to combat invasive grass species. The district is also using educational awareness to control the spread of zebra mussels, which are highly invasive, small freshwater mussels that rapidly multiply and cause major environmental and economic damage.
In addition to its environmental restoration endeavors and its water storage, conservation and infrastructure development activities, the district is working to increase the nation's percentage of science, technology, engineering and mathematics graduates. The district's approach has been to inspire middle school students to think about STEM disciplines, to encourage high school students to pursue STEM degrees, and to recruit college students to work in STEM positions offered in the corps and military.
The district is also focused on increasing the number of STEM graduates among women, African Americans and Latinos.
"We want to make sure we got a diverse workforce. It's well-known that if you got a complex problem or challenge, [you should] get together a diverse workforce. And that is based on experiences, different races, different genders, where you've been in the world, and different educational experiences," Kula said.
Statistics show that 10 out of 100 women and 5 out of 100 African American and Latino college students graduate with STEM degrees. Kula explained that the district sends corps' employees who are minorities to speak at schools that have predominately African American and Latino student populations in order to encourage these students to consider STEM careers and to join the corps and the military. Some of the schools the representatives have visited include Townview Magnet High School, Prairie View A&M University, Langston University and the University of Arkansas at Pine Bluff.
Lastly, Kula discussed the corps' effort to help returning veterans transition into the civilian workforce by working with them before they depart from their military installations. He concluded that a lot of veterans are coming to Dallas-Forth Worth due to the area's growing number of opportunities.