Leaders unveil a Black agenda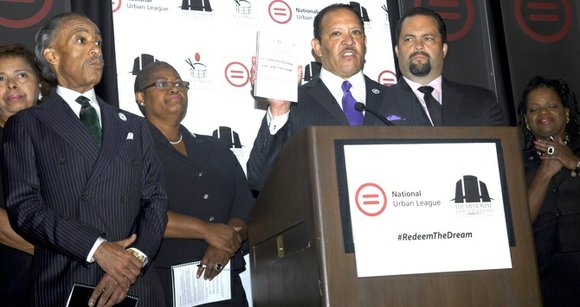 WASHINGTON (NNPA) – Conveners of a gathering to mark the 50th anniversary of the 1963 March on Washington released a five-point agenda as a first step toward a public policy list for Black America.
The broad areas were unveiled by "Big 4" conveners Marc Morial of the
National Urban League, Rev. Al Sharpton of the National Action Network, Benjamin Jealous of the NAACP, and Melanie Campbell of the National Coalition on Black Civic Participation, at a Friday session at the Grand Hyatt Hotel.
The "urgent domestic goals" included efforts to "achieve economic parity for African Americans; promote equity in educational opportunity; protect and defend voting rights; promote a healthier nation by eliminating health care disparities and achieve comprehensive criminal justice system reform."
The "21st Century Agenda for Jobs and Freedom" was the result of meetings last December and in January, said conveners. Participants included nearly 60 leading civil rights, social justice, business and community leaders. Besides face-to-face meetings were numerous conference calls, according to Morial.
"It's different because, candidly, we have allowed the sometimes inaccurate perception that we cannot unify our voices to get in the way," he said. "We decided instead of joining the chorus of cynics and complainers, that we would create a new course and that would be the course of unity, cooperation and collaboration."
Fifty years later, there must be a continuation around an agenda not marching or protesting for its own sake, he said.
The agenda offers a foundation and statement of principle that hopefully others will embrace and help craft strategies to accomplish the goals, said the Urban League CEO.
The 1963 march had goals, which included fair housing and voting rights, he added.
"Fifty years after the I Have A Dream speech, there is still too much business left for us to do," said Jealous, president and CEO of the NAACP.
He cited a litany of victories in the midst of struggle: passage of a Dream Act for immigrant youth, gun safety, early voting, same-day voter registration, marriage equality laws and ending the death penalty in Maryland. In New York, he continued, the City Council overrode a mayoral veto of a bill designed to halt racial profiling by police.
Common ground was found with the GOP in Georgia and tea party supporters in Texas to reform prisons and downsize penal institutions, he said.
There is still the fight against voter ID laws and other changes seen as efforts to suppress voting in places like North Carolina and Florida, Jealous said. Mass incarceration is perhaps the biggest issue, despite problems in education and unemployment, he said. In too many regions Republican governors have been more willing to downsize prisons than Democratic governors, "that needs to change," said the head of the nation's oldest civil rights group.
Melanie Campbell said the destruction of voting rights keeps the have-nots without and allows for erosion of other liberties. The five-point agenda provides a focus for what needs to be done today and ensure progress 50 years from now, Campbell added.