Leaders unveil a Black agenda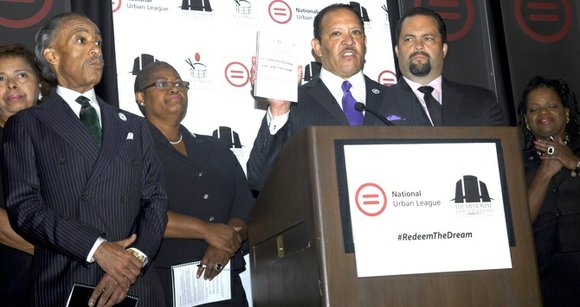 Fifty years later Blacks are "confronted with some of the same problems and new problems," observed Rev. Sharpton.
"The reason we have not made the progress we needed is we've been too disconnected," said the MSNBC TV host and Radio One talk show host. "We've been too worried who would get the credit rather than fighting the fight."
Yet with talk of common ground, new unity and mutual respect there was a missing voice. A question about his absence came when the day-long session was opened to audience participation.
"One leader that seems to be remotely absent, in the march this year is a leader who has been incredibly effective … and that's Minister Louis Farrakhan," said Byron Engall from Uptown magazine, when he stepped up to the microphone. There was hush over the crowd and then applause.
"When Minister Farrakhan convened the Million Man March and Millions More Movement, it was seen as operational unity for all perspectives," said Ron Daniels, president of the Institute for the Black World 21st Century. "I don't think these leaders make any pretense but that this [gathering] is of a certain historical tendency, it is the King-integrationist tendency."
Daniels said he didn't think it was unusual or unexpected that the Nation of Islam minister was not invited, although he disagrees with the decision. "We think there is enough room at the table," he said.
Leonard Dunston, however, former president of the National Association of Black Social Workers, called Minister Farrakhan's absence offensive. He explained, "Here's a man who was able to mobilize 2 million Black men … for him not to be invited is a miscarriage of justice to be perfectly honest with you."