Around the State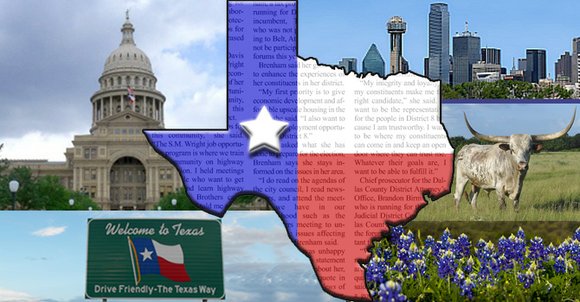 The Dallas Examiner
DALLAS
The S.M. Wright Foundation will host its annual Thanksgiving Day meal for the residents and homeless individuals in the South Dallas/Fair Park community. The annual event will provide a hot meal prepared by the El Centro Community Culinary Arts department and groceries for the families to take home for the remainder of the week. Over 3,000 individuals have registered their families to participate. The event will be held from 9 a.m. to noon at People's Missionary Baptist Church, located at 3119 Pine St. For more information about the event, visit http://www.smwright.org.
DALLAS
Last week, campuses across Dallas ISD participated in the citywide JFK Day of Service to promote student engagement in helping make Dallas a healthy, thriving and active community. The citywide Day of Service took place on Saturday and schools got involved by working to spruce up their campuses, helping others beautify and visited senior citizens. Students from other schools created exhibits and worked on writing projects, all to commemorate the president's legacy.
DALLAS
This week, Dallas high school students are reenacting the 1961 Freedom Rides on an educational tour to Atlanta, in commemoration of "50 Years of Dreaming." From Monday to Thursday, the 30 students will create a documentary during the first annual Martin Luther King Educational Freedom Ride, honoring this special part of Civil Rights Movement history. The students left from the Martin Luther King Jr. Community Center at 2922 Martin Luther King Jr. Blvd. and travelled to Vicksburg, Miss., and Jackson, Miss., then to Birmingham, Ala., and on to Atlanta, Ga. Their tour includes the historic 16th Street Church along with other historic sites. Students will tour the Martin Luther King Jr. National Historic Site, Morehouse, Spellman, Clark Atlanta University and the Oakland Cemetery.
DALLAS
The city of Dallas has launched a new data sharing initiative that provides easy online access to records and information about city business and operations. The Open Data Portal is part of the city's commitment to transparent government and civic engagement.
The online portal http://www.dallasopendata.com will continue to expand and evolve, according to Chief Information Officer Bill Finch, as the city responds to public requests. Internally, the city will also continue to develop new data sets for the portal.
Next year, the city will present App Challenges, a program encouraging residents to create new web and mobile applications. City officials say the possibilities are only limited by the creative thinking of participants.
For more information, call 214-670-3322 or visit http://www.dallascityhall.com.