Jerrika Hinton sizzles in Grey's Anatomy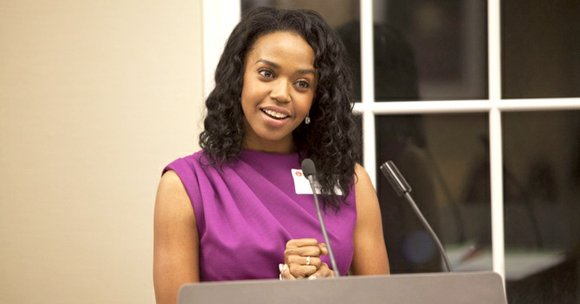 "At Longfellow Exploratory Academy, I learned how to run a business. I remember my future coming into focus. At 11 years old we turned the school into a restaurant with waiters and busboys. Our home economics class became a full-fledged restaurant."
As she recalled her early years of primary education, Hinton boasted that she enjoyed all her Dallas Independent School District schools. She especially enjoyed her days at Yvonne Ewell.
"At Talented and Gift, when I started a small theatre company at 16, I learned the economics and how to direct," Hinton recalled.
She went on to study directing and playwriting at Southern Methodist University's Meadows School for the Arts. She graduated in Spring 2002 with honors.
"When I think about my college years at Meadows, the socioeconomic plays I wrote allowed me to learn to give and receive constructive criticism. It enhanced my quality of life," Hinton reminisced. "When I completed Meadows and moved to Los Angeles, I began to experience the world the way it really is."
Hinton also appreciates her Grey's Anatomy medical intern role.
"It's the kind of show where I have ownership," she stated as she looked back at that little girl in elementary school who did not want to be a one-dimensional mouthpiece. "I am fortunate in that I am not just a performer, but I contribute to the show … I am not just a performer but a co-creator. I get to talk about how to convey the whole person of the character on the screen. And I want to help others to do the same."
Her parents were extremely proud when they saw their daughter in a commercial advertising the Best Buy store.
"When it came on, he was like, 'There she is.' It was so quick but he was still pleased," her mother revealed about her father.
But her father reacted just the opposite upon viewing the Grey's episode when his daughter was kissing Avery passionately in the backseat of a car.
"When the scene appeared, I was ready for it because she had warned me about what was going to happen [on the show]," her mother said. "But my husband didn't know what to expect.
"[When Jerrika appeared kissing her co-star, her father's] eyes got big and his mouth dropped open. He gasped," her mother said with a laugh. "I know that scene surprised him, but he's used to it now. In fact, we were on the set in September and we watched how difficult it is just to do something that appears in a few minutes. They have to shoot from different angles. Then they have to match the music with the scene. It takes a lot to complete a scene to get it so we see it on TV."
"Grey's Anatomy is in Season 10," her mother explained. "They do 24 shows a season. When [her father] watches it now, I think he is ready to see Jerrika in a different role. In fact, when we were on the set visiting Jerrika during her birthday in September, they did one scene that was not in Jerrika's real character. So he realizes that it's all acting."
Her parents miss her, but her mother said they understand her need to act.
"Jerrika is always busy but she is doing what she loves."