Sen. Royce West: Children's Champion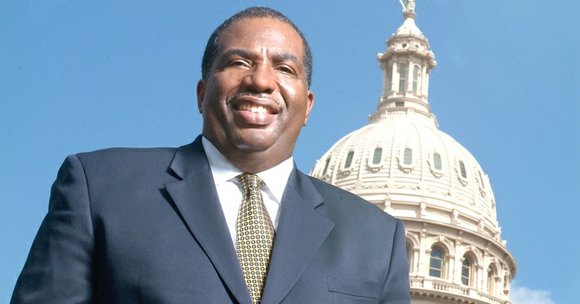 "I believe the children are our future," Whitney Houston famously sang on her 1986 hit The Greatest Love of All. In the years since the song first hit the charts it would appear that State Sen. Royce West, D-Dallas, was covertly laboring in chorus with Houston's lyrics through his work for children in the legislative halls in Austin.
The Texas Association for the Protection of Children honored West with the 2013 Children's Champion Award for his efforts in reducing the threat of child abuse while improving the well being of children across the state. The award was presented last month during the group's fundraiser at the Bush Library and Museum on the Southern Methodist University campus.
The non-profit TAftPC, or TexProtects, was formed in 2004 and advocates for improvements and reforms of the Child Protective Services system. They also increase public awareness regarding the abuse and neglect of children statewide, according to a release from the organization.
West and TexProtects have been strong allies in their common cause of supporting Texas' children. Recently, the congressman looked back at his 21 years of public service and talked about legislation that he thought was particularly effective.
"It's just like having several different children; you don't want to say one is better than the other," he hesitated as he recalled a law he helped pass, early in his career as a legislator, related to youth in foster care.
"Those kids that are in foster care, it allowed grandparents to take custody of those kids and provided state funding by way of a stipend for those grandparents that took custody of those kids," the senator explained.
West mentioned that measure also allowed family members who adopted children who were wards of the state to receive a monthly stipend similar to the amount that a foster parent received. This reduced the cost that the state was paying into the foster system while also keeping families together during challenging times.
He also noted that, in terms of bills for which he provided past leadership, "That's the one that's most important."
The lawmaker still has his work cut out for him, he disclosed. The system of ticketing students for infractions within schools had been an issue West grappled with during the most recent legislative session. He pointed out that, in an attempt to deal with discipline problems, children who were caught in what he characterized as "mischievous, but within the law" would get a ticket that was accompanied by a fine.
"If they didn't pay the tickets they would end up getting arrested, and then labeled," West said.
Thus, minor infractions a family could not afford to take care of would have permanent effects as the child grew up.
"And those labels obviously would carry on for the rest of their lives," West admitted. "So we cleaned that up."
It was that kind of leadership and innovative thinking to change things for the better for Texas kids that landed West the award, said Madeline McClure, executive director of TexProtects, in a written statement.