Dallas Mavericks Star Vince Carter mentors Dallas youth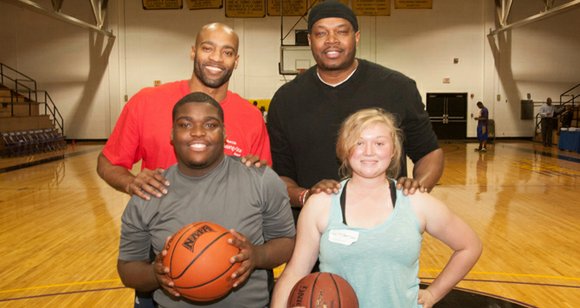 Special to The Dallas Examiner
Last month, outstanding Dallas area students Dominic Bowie and Charity Garrison thought they were participating in a basketball exercise clinic with their peers, when Mavericks guard Vince Carter, Joseph Braley, manager at Sun Life Regional Group, and Matt Aldridge, Sun Life voluntary practice leader, surprised them with $5,000 college scholarships for their remarkable educational achievements and commitment to their community.
The youth are part of Big Brothers Big Sisters and Community Council of Greater Dallas. Both organizations received $50,000 grants for their years of dedication and service to local youth.
The private basketball clinic took place at Paul Quinn College. Carter led more than 35 youth from both nonprofits in a variety of basketball drills and games. After the surprise announcement, he conducted a Q&A session with the youth, giving them insight to his background growing up, and what it takes to succeed in life and in school.
The scholarships and grants are offered through the Sun Life Rising Star Awards program, which provides financial resources to highly motivated students and nonprofit organizations in large urban school districts committed to encouraging underserved youth to stay in school. The program also promotes the importance of higher education as a means to achieve life-long financial wellness.
This year, Sun Life will provide nearly $1 million in grants, scholarships and other resources to outstanding organizations and students in Atlanta, Boston, Chicago, Dallas, Los Angeles, Nashville and South Florida. By the end of 2013, Sun Life will have invested nearly $4 million to recognize a total of 70 students and 63 nonprofit organizations in 14 U.S. cities, since the program began in 2010.