The new Billy Earl Dade Middle School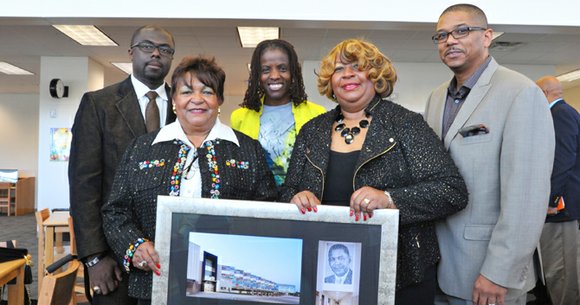 The Dallas Examiner
Two daughters of longtime Dallas educator Dr. Billy Earl Dade joined district officials, parents, students and elected officials on Nov. 8 at the dedication of the new school named in his honor. The new campus combines Pearl C. Anderson Middle Learning Center with Billy Earl Dade Middle School.
The consolidation affects the schools that fed into Anderson, which include: Charles Rice and Joseph J. Rhoads elementary schools which will now feed into the new Dade; Ascher Silberstein Elementary, which will now feed into Ann Richards Middle School. It also includes Oran M. Roberts Elementary, which will now feed into the new Dade or J.L. Long Middle School.
Constructed at a cost of $36.3 million, the 213,616-square-foot school is located at 2727 Grand Ave. The new Dade is the second district school dedicated this fall.
The facility is part of a $1.35 billion bond program that Dallas voters supported during the May 2008 election. The bond paved the way for the district to build eight elementary schools, four middle schools and two high schools, and construct 177 new classrooms on 13 existing campuses.
During the ceremony, Dallas ISD Superintendent Mike Miles lauded the modern learning facility and acknowledged Dade's daughters, Dr. Barbara Dade Martin and Billie Sanford, saying their father, "believed in the power of education to uplift people and communities."
Dr. Alecia Cobb, school principal, presided at the event as it featured the school's choir, band and Leadership Cadet Corps.
District 100 Texas House member Eric Johnson and Dallas ISD District 9 Trustee Bernadette Nutall shared their hopes for a bright future for the students served by the new school and encouraged the community to support it as volunteers and involved citizens.
District 7 Dallas City Council Member Carolyn Davis voiced similar sentiments and presented a proclamation in praise of the late Dade, who served as a teacher, college professor and mentor for more than a half-century. In Dallas ISD, he served as principal at Frederick Douglass, Paul Laurence Dunbar, John Henry Brown and C.F. Carr elementary schools, and Pearl C. Anderson Junior High School. While teaching mathematics at Julia C. Frazier Elementary School and Booker T. Washington High School, he also taught post-secondary classes at El Centro, Bishop and Paul Quinn colleges, and Prairie View A&M University.
Dr. Alfred Roberts, community leader and friend to the Dade family, expressed how pleased Dade would be to have a school named for him. Following a student presentation to the family, Dade's daughters thanked guests for celebrating their father's legacy.
Ed Levine, Dallas ISD executive director of Construction Services, shared some of the features of the school, which includes 28 classrooms, competition and practice gyms, a two-story media center, two computer labs, eight science labs, drama, orchestra and choir rooms.
Currently, the bond program is in the process of providing roughly $521 million to renovate more than 200 schools, adding 19 new science labs at six secondary schools and updating 16 school kitchens and 22 lunchrooms. Information on the allocation of bond funds can be found at http://www.dallasisd.org/bond2008.