New drug could save millions of lives
Michael McGee | 12/16/2013, 8:28 a.m. | Updated on 4/25/2014, 7:01 p.m.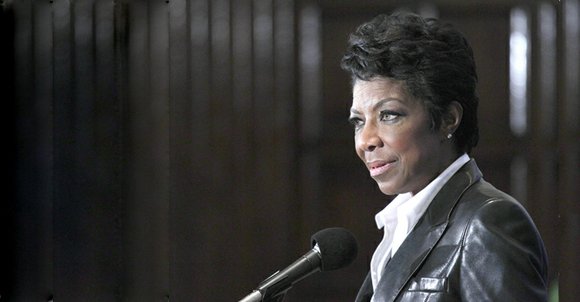 "It's very insidious because you don't know you have it," she said, describing life with hepatitis C. "You don't have any symptoms and yet it's in your body."
Martinez's mother was in an advanced stage of hepatitis C and was not a candidate for a transplant.
"As her liver was failing it was a horrible thing to see," Martinez said. "It's the filter for your body, and as hers failed, it wasn't filtering."
Toxins would build up in her mother's body, she said.
"She would bloat, her stomach would distend, and she'd get loopy, really crazy." These bouts would always lead to a trip to the hospital or nursing home. Six months after her hepatitis C diagnosis Martinez's mother was dead.
Martinez, however, is facing an altogether different prognosis with sofosbuvir.
"I was on that about a little less than 6 months," she said.
On June 28, the day before her birthday, Martinez got big news from the team working with her during the drug trial.
"I went and they said, 'You're cured.' I said 'What?' I said, 'You're kidding.' They said, 'No, you're cured,'" Martinez recalled.
Martinez noted that she would always have the virus in her, much like someone carrying the virus for chicken pox in their body once they've had the disease as a child. However, any trace of active hepatitis C within her is nonexistent.
Mantry explained how the medical landscape has shifted.
"The two things that have changed in the last couple of years is that the new drugs like sofosbuvir are extremely potent and are able to cure, as seen in the clinical trials, a majority of patients who are infected with any different type of hepatitis C." The other factor, he said, was treatment that used to take a year can now be as short as three to six months. The side effects are fewer as well.
It all adds up to quite a breakthrough for African Americans. In clinical trials with sofosbuvir, African Americans had a "very high" rate of cure as compared to treatments of the past, Mantry said. The doctor added that screening for the condition is a substantial step to slowing down the population's rate of infection. The majority of those who have the virus often don't know that they are sick until the disease is quite advanced.
"Almost 1 in 7 African American men in their 50s are currently living with hepatitis C," Mantry said. "They are productive members of this society living with a chronic, progressive disease."
Yet once patients are identified, a majority of hepatitis C cases could be cured with the new drug, he acknowledged. Martinez is now aware that, just like many curable diseases, testing is vital to being treated on time.
"It lays dormant," she said. "You never know you have it."
.
UPDATE: From the U.S. Food and Drug Administration
FDA approves Sovaldi for chronic hepatitis C
Drug is third with breakthrough therapy designation to receive FDA approval
The U.S. Food and Drug Administration approved Sovaldi (sofosbuvir) to treat chronic hepatitis C virus infection on Dec. 6. Sovaldi is the first drug that has demonstrated safety and efficacy to treat certain types of HCV infection without the need for co-administration of interferon.