President Barack Obama speaks during memorial service for former South African President Nelson Mandela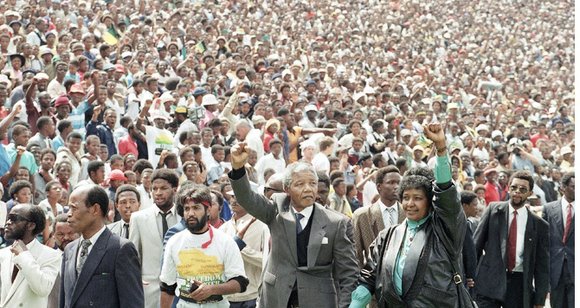 Mandela showed us the power of action; of taking risks on behalf of our ideals. Perhaps Madiba was right that he inherited, "a proud rebelliousness, a stubborn sense of fairness" from his father. And we know he shared with millions of black and colored South Africans the anger born of, "a thousand slights, a thousand indignities, a thousand unremembered moments…a desire to fight the system that imprisoned my people," he said.
But like other early giants of the ANC – the Sisulus and Tambos – Madiba disciplined his anger and channeled his desire to fight into organization, and platforms, and strategies for action, so men and women could stand up for their God-given dignity. Moreover, he accepted the consequences of his actions, knowing that standing up to powerful interests and injustice carries a price. "I have fought against white domination and I have fought against black domination. I've cherished the ideal of a democratic and free society in which all persons live together in harmony and [with] equal opportunities. It is an ideal which I hope to live for and to achieve. But if needs be, it is an ideal for which I am prepared to die."
Mandela taught us the power of action, but he also taught us the power of ideas; the importance of reason and arguments; the need to study not only those who you agree with, but also those who you don't agree with. He understood that ideas cannot be contained by prison walls, or extinguished by a sniper's bullet. He turned his trial into an indictment of apartheid because of his eloquence and his passion, but also because of his training as an advocate. He used decades in prison to sharpen his arguments, but also to spread his thirst for knowledge to others in the movement. And he learned the language and the customs of his oppressor so that one day he might better convey to them how their own freedom depend upon his.
Mandela demonstrated that action and ideas are not enough. No matter how right, they must be chiseled into law and institutions. He was practical, testing his beliefs against the hard surface of circumstance and history. On core principles he was unyielding, which is why he could rebuff offers of unconditional release, reminding the Apartheid regime that "prisoners cannot enter into contracts."
But as he showed in painstaking negotiations to transfer power and draft new laws, he was not afraid to compromise for the sake of a larger goal. And because he was not only a leader of a movement but a skillful politician, the Constitution that emerged was worthy of this multiracial democracy, true to his vision of laws that protect minority as well as majority rights, and the precious freedoms of every South African.
And finally, Mandela understood the ties that bind the human spirit. There is a word in South Africa – Ubuntu – a word that captures Mandela's greatest gift: his recognition that we are all bound together in ways that are invisible to the eye; that there is a oneness to humanity; that we achieve ourselves by sharing ourselves with others, and caring for those around us.