Africa completes 10 days of mourning for Nelson Mandela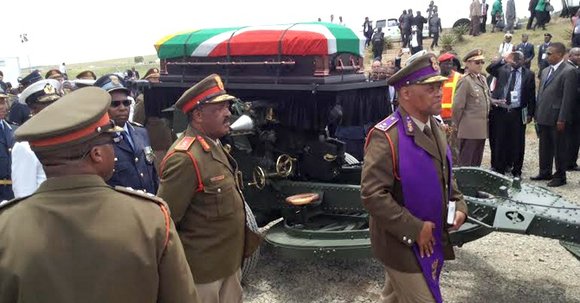 QUNU, South Africa (NNPA) – With a rich mixture of ceremonial military pomp and ancient tribal customs, Nelson Mandela, South Africa's first democratically elected president, was buried here Sunday in the village of his youth, culminating 10 days of national mourning.
The former Nobel Prize-winner, in accordance with his wishes, was buried in a family graveyard high in rolling green hills where other close relatives are buried, including his father, Makgatho Mandela, who died in 2005; his eldest son, Madiba Thembekile, who died in an automobile accident in 1969; and Makaziwe Mandela, his first daughter who died as an infant in 1948.
In his autobiography, Long Walk to Freedom, Mandela described Qunu as a place where "I spent the happiest years of my boyhood and whence I trace my earliest memories."
To pay tribute to Mandela, leaders and celebrities from around the world made their way to this bucolic community in the eastern section of the country to share their memories of the global icon. Among those attending were Britain's Prince Charles; media mogul Oprah Winfrey, who was escorted by longtime beau Stedman Graham; civil rights leader Jesse Jackson, Archbishop Emeritus Desmond Tutu, Virgin Airlines founder Richard Branson and British actor Idris Elba, who plays Mandela in the movie, Long Walk to Freedom.
Guests attending the funeral were transported from a park-and-ride facility at Walter Sisulu University to a makeshift white dome-like auditorium covered in white sheathing. Because seating was restricted to 4,500 accredited guests, many local residents complained that they were relegated to the background, forced to watch the funeral of their most celebrated son on television.
To ease complaints about exclusion, the government set up 16 broadcast viewing areas across the country for viewing and collective mourning. The state funeral and parts of the burial were broadcast live in South Africa and around the world.
The funeral followed a memorial service last Monday and three days of Mandela lying in state at the Union Buildings in Pretoria, where his body was viewed by more than 100,000 people. Because of long lines and hours too short for the occasion, at least twice as many people might have viewed the body through Friday if they had been given the opportunity.
After a final ceremony Saturday morning at the Union Buildings in Pretoria, Mandela's coffin was flown to Mthatha where it was met by a military escort and greeted by locals with three shouts of "Aaah! Dalibhunga," a reference to Dalibhunga, the name given to Mandela at 16 upon being initiated into adulthood.
His remains were transported to Quna, 37 miles away. There, military officials handed over his remains to village elders in his old home. The South African flag that draped his coffin was replaced with a lion skin, a traditional symbol of the Xhosa people. Tribal leaders and men in his family held a private vigil at dusk in keeping with traditions of Mandela's Thembu clan. His remains stayed in his bedroom throughout the night, overlooking his future gravesite.