Africa completes 10 days of mourning for Nelson Mandela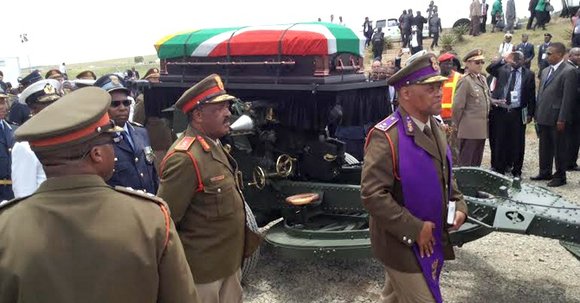 Unlike Saturday's final public ceremony in Pretoria, in which tributes were paid by personalities from around the world before Mandela's remains were flown here, Sunday's funeral was an all-Africa affair.
President Zuma delivered the eulogy with Mandela's flag-draped casket resting in front of him. Zuma said, "As your journey ends today, ours must continue in earnest. One thing we can assure you today, Tata, as you take your final steps, is that South Africa will continue to rise. We pledge to take your vision forward."
As the first president elected with the participation of Black voters, Mandela is considered the father of the country. Hence, the numerous references to "Tata," which means father. He is also referred to as Madiba, his clan name.
Malawian President Joyce Banda praised Mandela at the funeral as an ideal leader.
"Leadership is about falling in love with the people you serve and about people falling in love with you. It is about serving the people selflessly with sacrifice and a need to put good ahead of personal interest."
Kenneth Kaunda, Zambia's first post-colonial president, praised Mandela as "South Africa's greatest son."
When African National Congress Deputy President Cryil Ramaphosa tried to shorten Kaunda's speech by slipping him a note, the former president told the audience, "This boy is trying to control me. He doesn't know that I fought the Boers."
Uncontrolled, Kaunda continued, "As we go on without Madiba, he's no more in terms of his life, but he is still with our leaders. His lessons remain with us, to guide us. Remember, Madiba also told us to love our neighbors as you love yourself."
Following the Thembu custom of an elder's funeral, an ox was slaughtered on the day of the burial to accompany the spirit of Mandela to his ancestors.
After the funeral, soldiers in their dress uniforms placed the casket on a gun carriage and marched with it several hundred yards up a steep hill to the burial site. Only 450 people, most of them international leaders and high-ranking ANC officials, were allowed to attend the burial.
Helicopters adorned with South African flags hovered above. About a dozen Pilatus PC-7 aircrafts streaked across the clear skies in formation. Mandela's coffin was placed over his grave and soldiers folded the South African flag that had rested on the casket.
South African National Defense Force Chaplain Rev. Monwabisi Jamangile prayed before Mandela's coffin was lowered into the grave.
"We will remember Nelson Rolihlahla Mandela," he said. "Rest in peace. Yours was truly a long walk to freedom and now you have achieved the ultimate freedom in the bosom of your leader, God Almighty."
A fly-over was accompanied by a 21-gun salute. A trumpeter softly played the Last Post as the body was being lowered into the ground
Over 10 days of public mourning, Mandela was repeatedly praised for his spirit of forgiveness and his unique ability to unify people with opposing views. It was a lesson warring relatives were able to put into practice only after Mandela died on Dec. 5 at the age of 95.